Hanoi: Center of Vietnam, Street Food Mecca.
The capital of Vietnam, Hanoi, is known for its French inspired architecture and cuisine, and many fun things to do. While the French played a major role in shaping Hanoi's food and culture, the city takes plenty of inspiration from China and fellow Southeast Asian countries.
It's common to see French styled buildings with baguettes and pate galore. There are countless restaurants and food to try, but today we'll be going over 10 of the best restaurants to try in Hanoi.
We'll help you decide where to eat and discover your next foodie obsession as you explore your way through Hanoi's greatest restaurants.
Check out our list of the 10 Restaurants You Must Try in Hanoi.
1. 
The Hung Snake Restaurant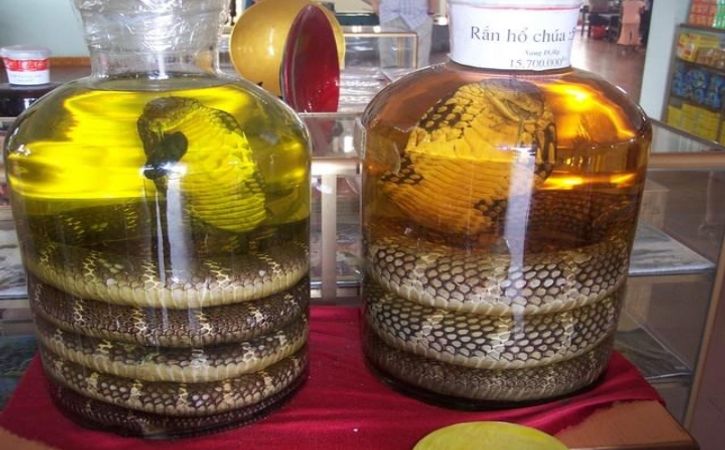 For over 1,000 years the village of Lệ Mật has been breeding snakes and at the Hung Snake Restaurant you'll be able to taste these slithery creatures.
Cooked and prepared in just about every way, you'll be able to eat until your heart's content at this local restaurant. Fried, sauteed, boiled, or steamed, there's no end to the possibilities!
You're even able to try the fabled snake wine which is said to improve one's health and physique.
Price: $-$$
Operating Hours: 9AM – 11PM
Daily Address: 33 Lệ Mật, Việt Hưng, Long Biên, Hà Nội, Vietnam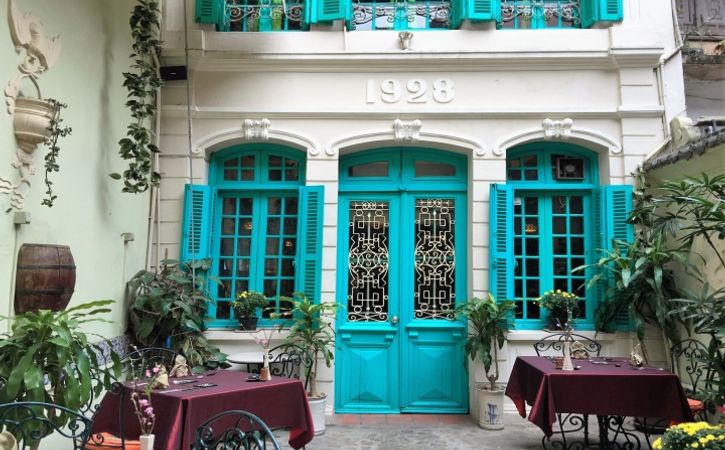 The Green Tangerine is a fairly new restaurant with a lot of history. The building it lies in was built in the 1920s and served as a French villa. The architecture is reminiscent of the time and showcases the French-Vietnamese history.
A beautiful garden surrounds the restaurant making it the perfect spot for an afternoon lunch and a break from Hanoi's bustling city.
A food you must-try is their duck breast carpaccio! This artfully plated dish is served with red fruit dressing, ginger candied gizzard, coffee marinated roasted pigeon, mashed eggplants inside spinach leaves and broccoli, sesame biscuits and mushrooms, and caramelized pork with stewed apples. It may be a mouthful, but it's the restaurants most famous dish and worth the try!
Price: $$
Operating Hours: 11AM – 11PM Daily
Address: 48 Hàng Bè, Hàng Bạc, Hoàn Kiếm, Hà Nội, Vietnam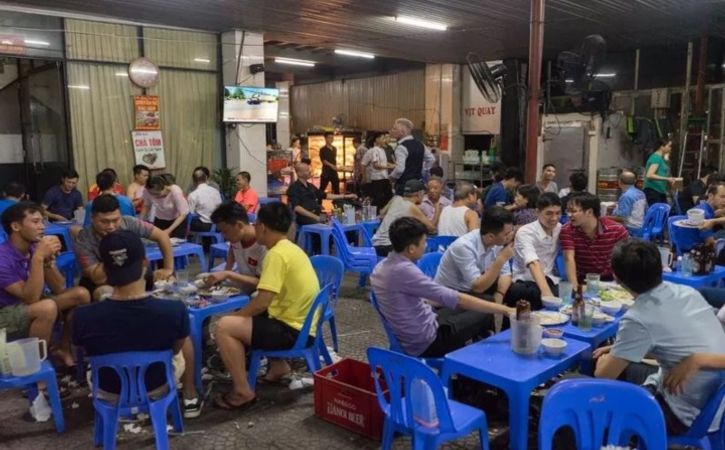 Looking to wind down with an amazing happy hour? Bia Hoi U Phao is the place for you! As soon as the clock hits 5 p.m., locals gather round to chat and enjoy cheap as you can imagine beers and snacks.
Bia Hoi U Phao won't have the common entrees you'll see in typical Hanoi restaurants, but you'll be able to sample the cities' greatest street food snacks. You can't miss out on the roasted pork belly with pickled veggies or their deliciously fried chicken!
Take note, the southeast corner of Ho Tay primarily caters to locals, but don't worry. Come to the Bia Hoi junction and you'll be able to feast like a local at this amazing restaurant.
Price: $
Operating Hours: 4PM – 9PM
Address: 18 Trấn Vũ, Quán Thánh, Ba Đình, Hà Nội, Vietnam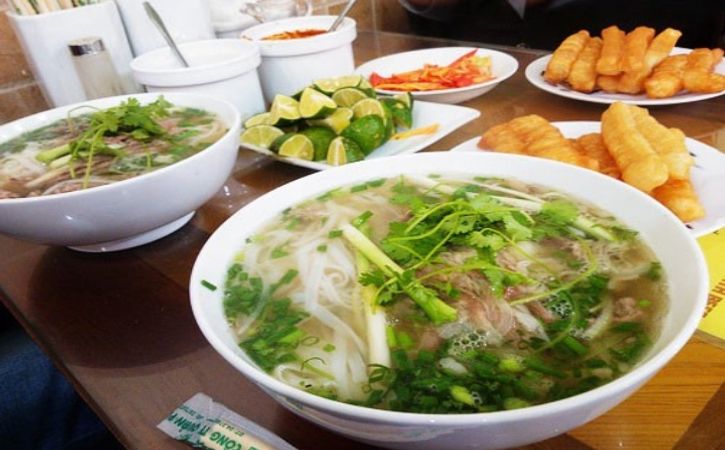 You can't go to Hanoi without trying some amazing pho and Pho Vui is one of the best restaurants to try it at. Designed like a butcher shop, Pho Vui showcases the raw meat used in its bowls front and center. Their meat is fresh and sliced to order. After taking a seat you'll see chefs cutting away at the hanging meats to toss into the next bowl of pho!
Price: $
Operating Hours: 7AM – 10AM; 6PM – 12AM Daily
Address: 25 Hàng Giầy, Hàng Buồm, Hoàn Kiếm, Hà Nội, Vietnam
Pho is a major staple in Vietnamese cuisinse. Why not learn how to make it and take a piece of Vietnam home with you! Cookly has multiple courses which will teach you how to make pho along with a variety of other Vietnamese dishes. Check out the one below which will show you how to make pho and 4 other traditional Vietnamese foods!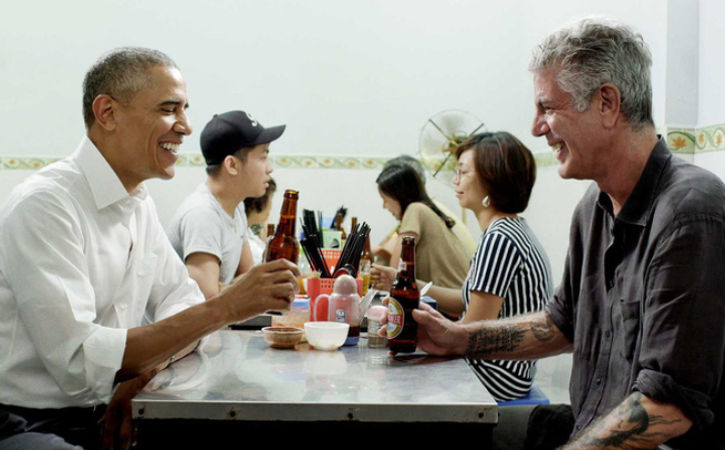 The celebrity famous restaurant, Bun Cha Huong Lien. This restaurant is most acclaimed for being one the restaurants President Obama and Anthony Bourdain dined at on a trip to Vietnam. The restaurant is now ridiculously famous, but even before their visit, Bun Cha Huong Lien was already a must see on tourists lists of restaurants to try.
As the name suggests, this restaurants specializes in Bun Cha. Otherwise known as pork balls, Bun Cha is deliciously juicy with just the right amount of fat to make your mouth want more. Noodles and fresh herbs round out this dish and a special sauce adds a burst a flavor you won't forget.
Price: $
Operating Hours: 8AM – 8:30PM Daily
Address: 24 Lê Văn Hưu, Phan Chu Trinh, Hai Bà Trưng, Hà Nội, Vietnam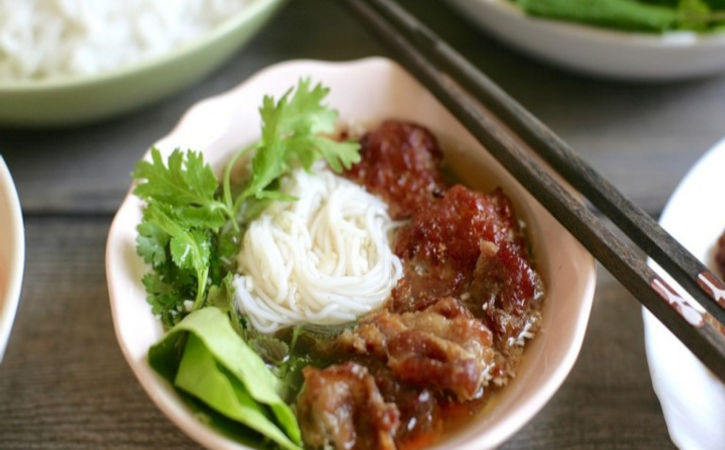 Eat like a local with locals at Hung Lau. Hung Lau also specializes in Bun Cha, but has remained a local treasure. This restaurant is hard to find online, but don't fret! You'll see this place is popular upon arrival. Constantly packed with locals, this is the most authentic Bun Cha you may ever have in Hanoi. None of the staff speaks English, so it may be a bit intimidating, but don't let that stop you from trying this restaurant out!
Price: $
Operating Hours: 8:30AM – 3:30PM Daily
Address: 6 Ngõ Trạm, Cửa Đông, Hoàn Kiếm, Hà Nội, Vietnam
Interested in making your own Bun Cha? Cookly has multiple courses that'll teach you how to make this delicious Vietnamese dish and more!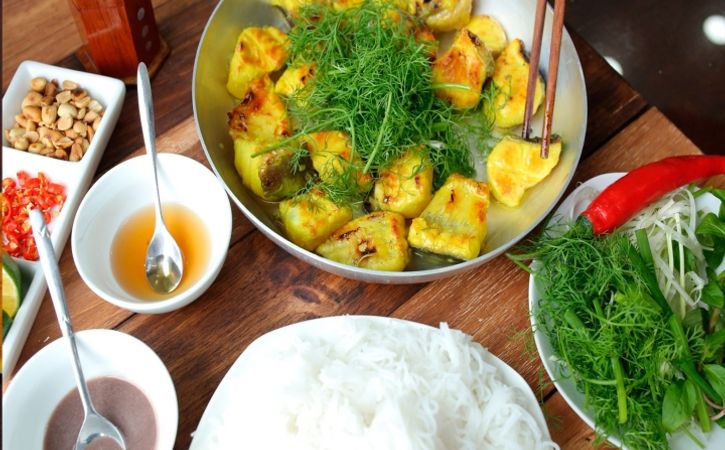 No English can be heard upon entering this Hanoi restaurant. It's located on a narrow street in old quarter and filled with sea green coloring lining the walls. A ladder, which could be mistaken as a staircase, leads patrons up into the main room. There's also no need to think about what to order, because this restaurant serves one thing; Cha Ca La Vong! Just as the name suggests.
After sitting down you'll receive a frying pan full of fresh fish and your own personal charcoal cooker. Along with the fish you'll be handed a bowl of rice noodles and fresh herbs. As the fish begins to heat up, it's time to add those herbs. Put as much or as little you'd like and you'll soon smell the delicious scent of turmeric and dill surround the table.
After adding the right amount of herbs, take a bowl full of noodles and begin scooping the fish, herbs and flavored oil right atop the noodles. Feel free to add fish oil and chilies to give the Cha Ca La Vong an added layer of flavor.
Price: $-$$
Operating Hours: 11AM – 2PM; 5PM – 10PM Daily
Address: 14 Chả Cá, Hàng Bồ, Hoàn Kiếm, Hà Nội, Vietnam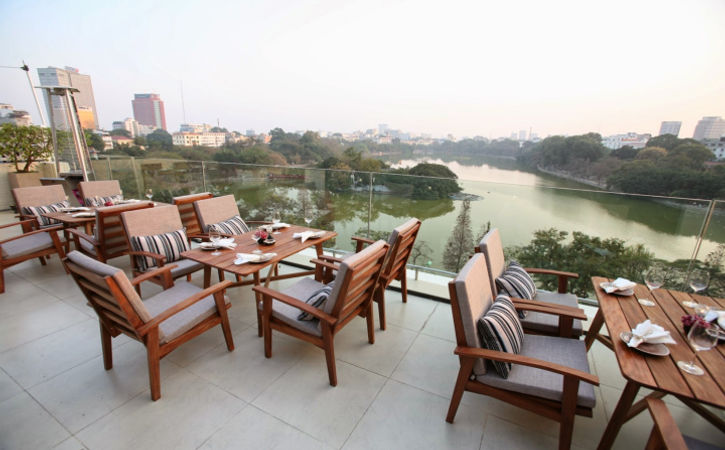 Cau Go is the perfect date night spot. This restaurant over looks Hoan Kiem lake and gives diners an amazing view of Hanoi. Go there at night to be stunned by this beautiful city as it lights up at night. It located in the old quarter in the 6th floor of a local building. Cau Go features a simple French colonial vibe that'll take you back in time.
As for the food Cau Go features a variety of contemporary dishes from across Vietnam, such as, Hanoi, central Vietnam, and Saigon. There's also the option to be seated outside right by the lake!
Price: $-$$
Operating Hours: 10AM – 11PM Daily
Address: No. 7 Dinh Tien Hoang St, Hanoi 10000, Vietnam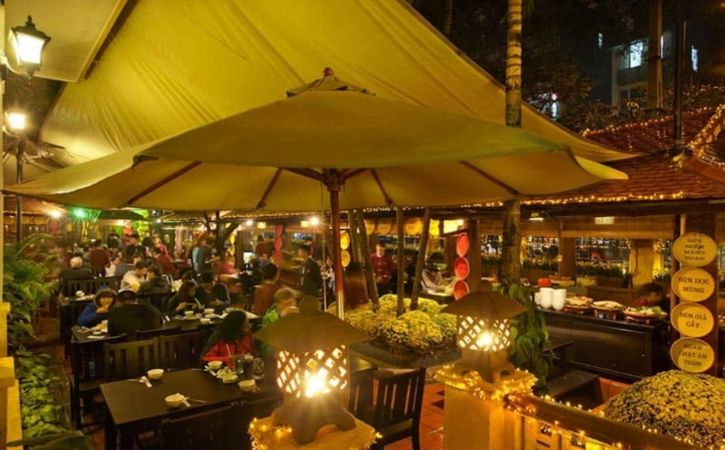 Quan An Ngon is another restaurant packed with locals and authentic Hanoi food. This is the place to be if you want to try just about every Vietnamese snack possible. Upon entering its courtyard-like layout, Quan An Ngon is packed with patrons and food ready to be eaten!
Price: $-$$
Operating Hours: 6:30AM – 9:45PM Daily
Address: Số 18 Phan Bội Châu, Cửa Nam, Hoàn Kiếm, Hà Nội 111103, Vietnam
10. 
The Hanoi Social Club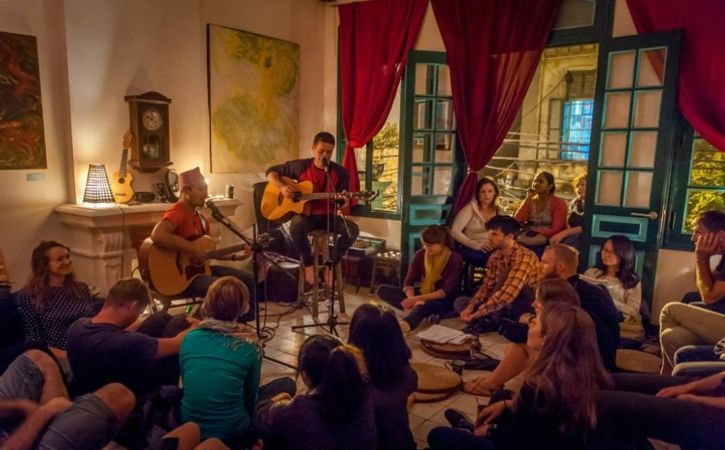 This is the must-try spot for anyone looking for a trendy dining experience. The Hanoi Social Club attracts local and touring socialites alike with its quante, coffee-shop like appearance. It often features local musicians in an intimate, relaxing setting.
It features a Mediterranean menu with plenty of vegetarian options. It's the perfect start to a morning of touring or a calming night aftering wander the streets of Hanoi.
Price: $-$$
Operating Hours: 8AM – 11PM Daily
Address: 6 Ngõ Hội Vũ, Hàng Bông, Hoàn Kiếm, Hà Nội, Vietnam