Last Updated on June 29, 2023
Embark on an adventurous holiday in Marrakech!
Marrakech is becoming more of a popular tourist destination each year due to its aesthetic designs, vibrant marketplace, and flavorful foods. The intricate tiles and arches on buildings make Marrakech a destination with some of the most beautiful architecture.
If you are unsure of what to do in Marrakech, we'll help you plan some of the best things to do while visiting this lovely city. You will certainly take some of the most stunning photos and experience an intriguing culture in Marrakech.
You'll be surprised to learn some new things about the culture and its food while you are here. Whether you're in Marrakech for a relaxing trip or an exciting adventure, this guide will provide some of the most fun things to do in Marrakech that will make this vacation memorable.
Here are the top things you must do in Marrakech:
1. Start Your Day With a Fresh Cup of Juice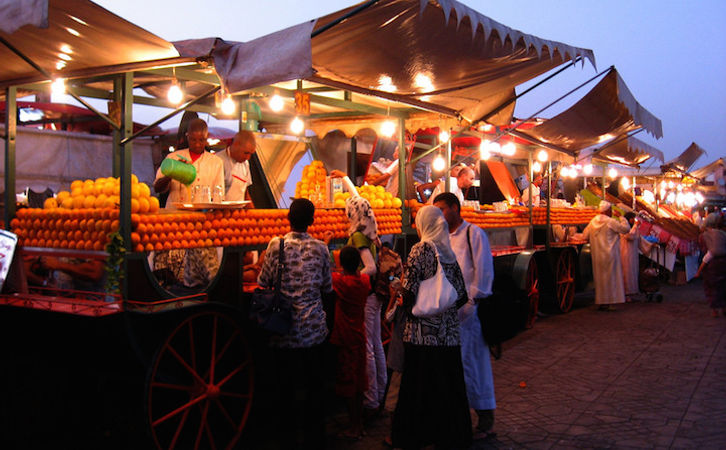 Cool down with a refreshing drink
You'll find a lot of vendors that sell juice when you go to the square, Jemaa el-Fnaa. The most popular juice you will see is orange juice since oranges make up most of Morocco's agricultural production. Many visitors claim that Marrakech has the best orange juice in the world because it is so fresh!
Tip: The place to get the best freshly squeezed orange juice is at Jemaa el-Fna. Some places dilute the juice with water and ice so make sure you see them actually squeeze the juice.
2. Watch a Snake Charmer Perform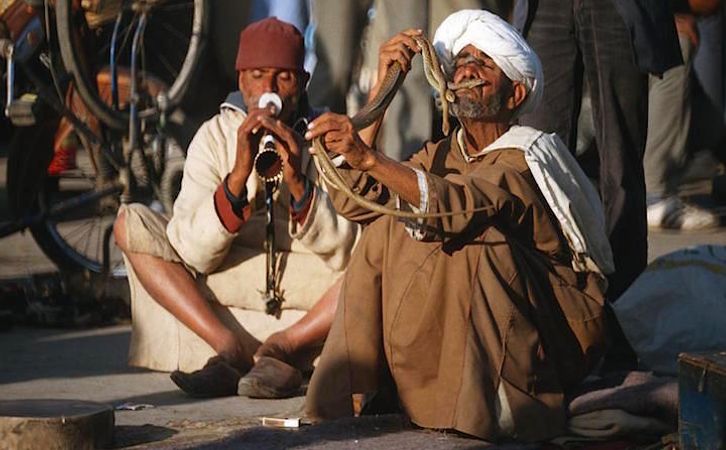 Are you daring enough to get close to the snakes?
The music that is played by snake charmers can be heard as you enter the square. Snake charming is a common practice in Marrakech and often attracts a lot of people. There is usually someone playing an instrument while the other person handles the snake.
If you're brave enough, sometimes they even let people hold the snake! Snake charming is a dangerous practice because many people have been bitten by the snakes before. Some of the snakes' fangs have been removed but you should still be cautious about it.
3.Take a Moroccan Cooking Class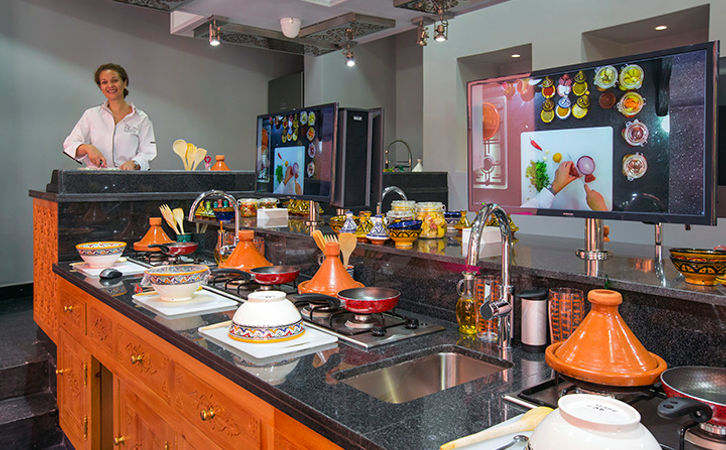 Heighten your senses through Moroccan food!
Moroccan food is not well known to a lot of people. Although you will be eating a lot of new food in Marrakech, the best way to learn about the food is by taking a cooking class! Traditional Moroccan food uses a lot of unique spices which can be found in souks (markets), however, not a lot of people know how to properly use or store them.
You can learn more about this through cooking classes. Some classes offer spice workshops, classes at a farm, and tours of souks! Taking a cooking class in Morocco is unlike classes that are offered in other countries. It is a must do when you visit Marrakech!

Explore Cooking Classes at Marrakech

4. Visit the Magical Majorelle Garden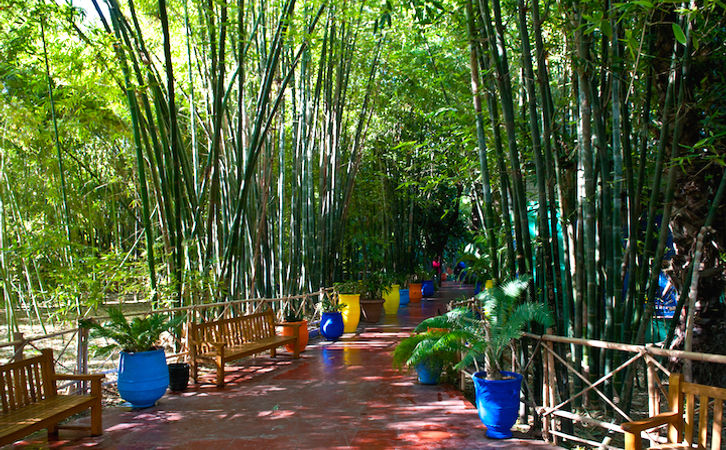 by Anna & Michal
This garden is a work of art!
Majorelle Garden is one of the most visited sites in Marrakech. It was created by the French artist, Jacques Majorelle. He was inspired by the cobalt blue tiles that decorated Moroccan buildings and that is why the house is blue. The garden is surrounded by numerous exotic plants and has a beautiful pond filled with water lilies.
The iconic fashion designer Yves Saint Laurent bought the garden and restored it in 1980. There is even a museum dedicated to his work!
Entrance fee: General admission to the garden is 70 DHS and 30 DHS for the Yves Saint Laurent museum.
5. Ride a Camel in the Desert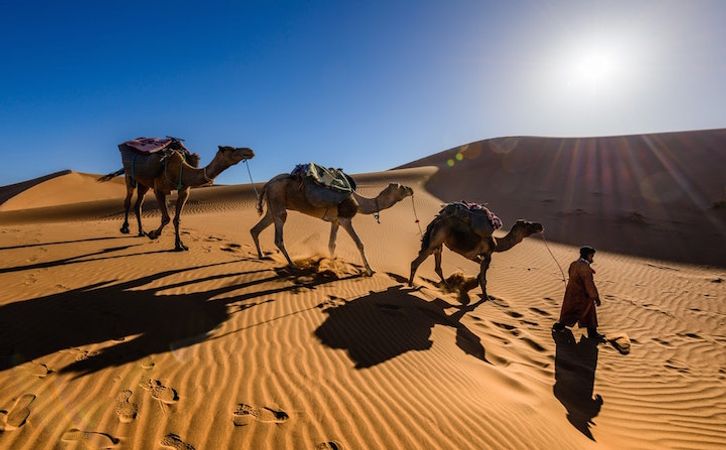 Camels are nicknamed the "ships of the desert"
Although Marrakech is not directly in the desert, it is located near the Morocco Sahara. Camels have been used to transport goods across the desert for centuries. Riding a camel through the desert will definitely be the highlight of your trip!
There are many tours that offer this unique experience. Some tours that take you to the dessert can last a few days but there are day trips available as well.
Cost: It can cost around $40 and up depending on the package you choose with your tour.
6. Stay at a Riad
Don't stay in a hotel, live in a Riad instead!
A Riad is a traditional Moroccan house that has a beautiful interior courtyard. Visiting Marrakech is not complete without staying at a Riad. Many of these houses are decorated with plants and a fountain or pool. Some even have a rooftop lounge!
Marrakech definitely has some of the most amazing architecture. You'll be guaranteed to take some stunning photos at a Riad. You'll also feel luxurious when you are staying there.
7. Eat Street Food at Jemaa El- Fna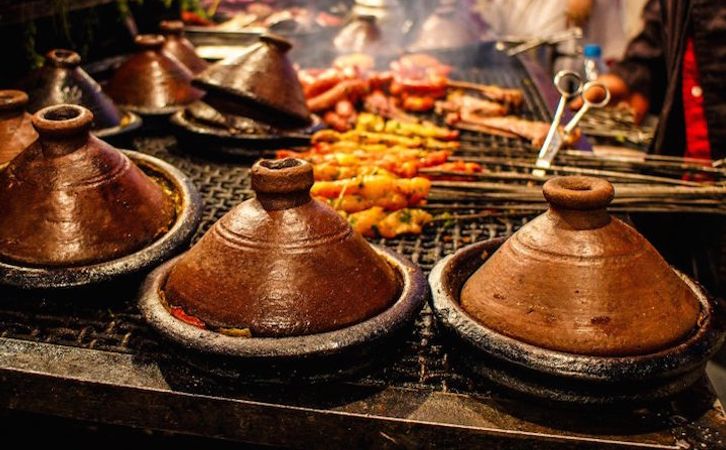 by Holiday Guru
Don't be afraid to try new food!
The best street food in Marrakech can be found at Jemaa el-Fna. There are a lot of varieties but some of the street food is very unique and may intimidate tourists. Some interesting foods you may find is snail soup, sheep head, and spicy sardines.
Something you must try while you're in Marrakech is the lamb! If you go towards the north end of Jemaa el-Fna, you will find Mechoui Alley. This alley specializes in lamb dishes. The lamb is slow cooked in clay pots and will fall right off the bone!
Good to know: There are concerns regarding hygiene when it comes to street food in Marrakech. A good tip is to eat where you see a lot of locals and avoid places that only have tourists. You can sometimes see the vendors cleaning the cups and bowls but they are not always washed thoroughly.
8. Pamper Yourself at a Hammam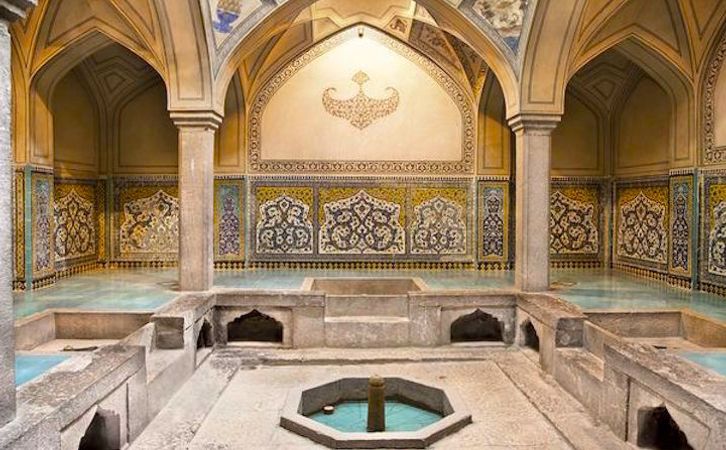 by Rituals
Unwind the traditional way
A hammam, also known as a Turkish bath, is a type of bathing ritual that is often done in cultures that are influenced by Islam. Tourists usually go to a hammam for relaxation but many locals visit a bathhouse weekly for a deep cleanse.
There are different steps to this bathing ritual. First, you'll need to stay in a steam room for a few minutes to sweat out the toxins! Then, an attendant will wash and exfoliate your body with a special soap that is made out of olive oil. After you wash off, the final step is to cool down either in a cold room or in a pool.
9. Get Lost in the Lively Souks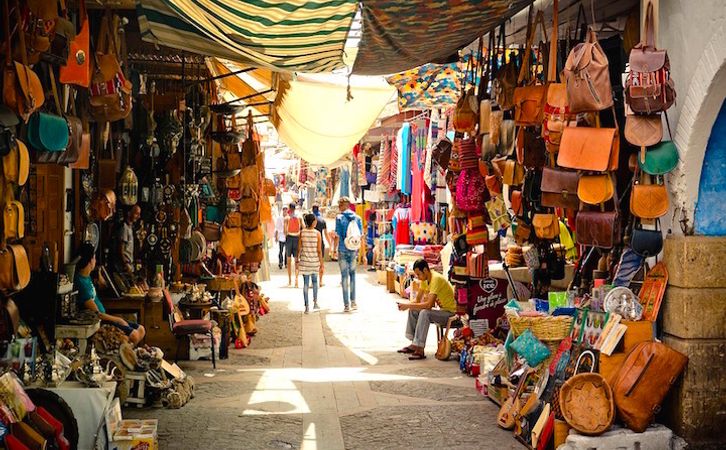 This is the best place to go shopping!
A souk is a marketplace where you can find almost anything! The souks in Marrakech are like a maze so be ready to get lost. You can probably spend hours exploring and shopping at the marketplace.
You can find leather goods, spices, colorful pottery, lanterns, and clothes in the souks. Although the items may seem unique to you, there are many stores that sell the same thing for different prices. Make sure you visit different stores if you are looking for something specific!
Tip: It is time for you to practice your bargaining skills. Many items may be overpriced so the vendors there are willing to negotiate a price with you! Take a tour at a souk and learn to cook Moroccan food!
10. Ride a Hot Air Balloon at Sunrise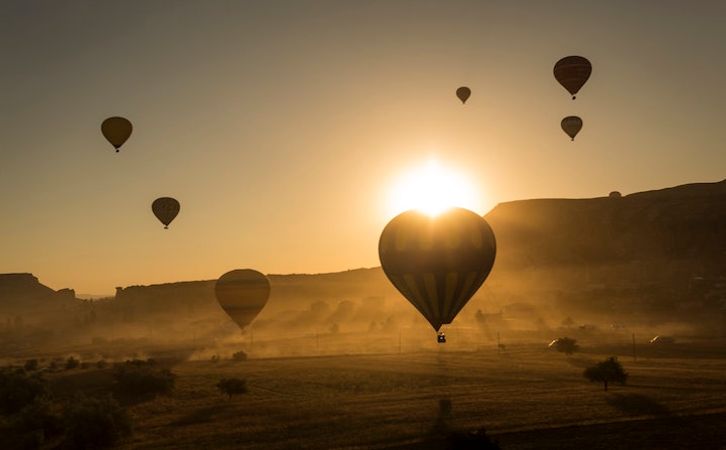 Get the best view of Marrakech!
Enjoy a peaceful view of the city as you ascend into the sky in a hot air balloon. Taking a ride to watch the sunrise will be worth it even if you're not a morning person. You'll be able to get a sight of the desert as well as the Atlas Mountains!
Although it can be kind of expensive to ride a hot air balloon, it is something you don't get to do often. Depending on where you book your balloon ride, some services include transportation, breakfast, and even champagne in the air!
Cost: Prices range around $230 and up.
This is it!
These were the top fun things to do in Marrakech. Hopefully, you've gotten some insight on what you must see in Marrakech and had fun doing so! Don't forget to visit www.cookly.me to book an incredible cooking class or food tour while exploring Marrakech: