Are you looking for the best and most authentic Greek food to eat in Athens?
Greek food is loved all over the world and is known for being packed with flavor and using a lot of fresh ingredients. You can enjoy a variety of Greek food all across Athens, from delicious grilled meats being cooked up by street food vendors to exotic sweet treats at popular local restaurants. It honestly does become a little difficult to figure out what are the must eat Greek foods because there are so many Greek dishes to enjoy and try while in Athens.
So we've specially curated this guide to the most authentic Greek foods that every foodie must try in Athens, and maybe learn how to cook it too at our cooking classes in Athens.
Here's our list of the Must Eat Authentic Greek Foods in Athens: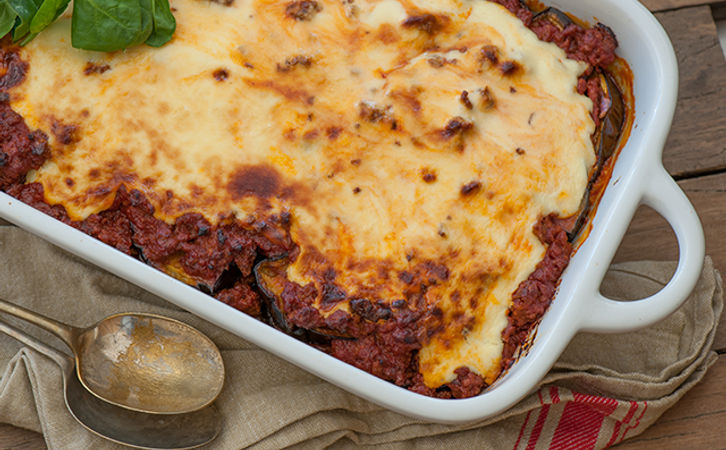 One of the most popular traditional Greek dishes that is eaten and served all over Greece. This baked dish is made with sauteed aubergines, minced beef cooked with tomatoes, creamy bechamel sauce and topped with a fluffy layer of cheese. Just salivating at the sound of this.
2. 
Saganaki – Fried Cheese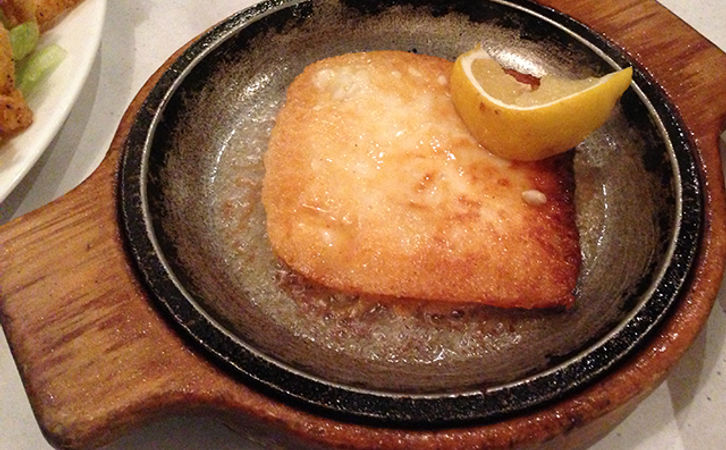 Greek cuisine includes a lot of variety of cheese and do they love their cheese. This delightful dish is another classic representation of Greek food, which is usually eaten as an appetizer and simply prepared in 10 minutes with just two ingredients, flour and graveria cheese (hard molten white cheese).
3. 
Souvlaki – Grilled Meats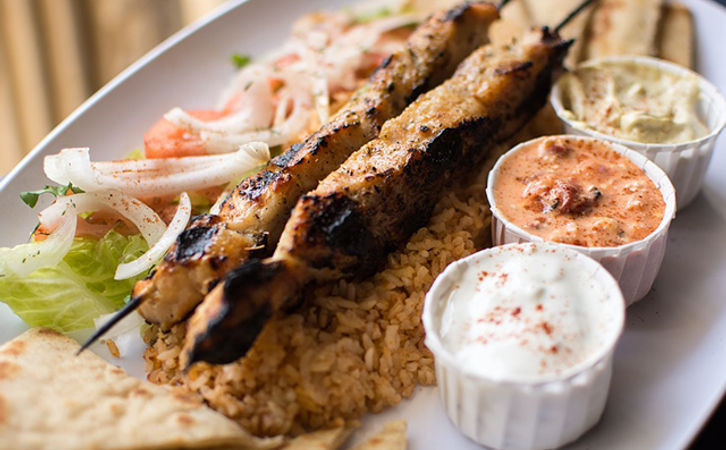 You can walk all over Greece and find plenty of street food vendors firing up their grills to prepare all sorts of skewered and charcoal barbecued meat, popularly lamb and pork. Best enjoyed as gyros or wrapped in Pita bread and served with delicious dips & sauces like Tzatziki.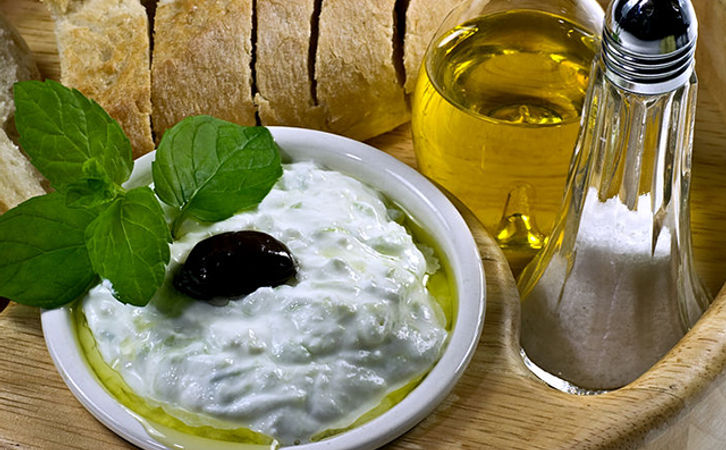 An authentic Greek dish that is enjoyed with every meal, playing an important role in Greek cuisine as a beautiful & flavourful accompaniment serving as a sauce/dip for various Greek dishes. It's a very easy and simple dish to cook, which includes yogurt, garlic and olive oil.
5. 
Kolokythokeftedes – Courgette Balls
A tasty veggie treat that is a popular dish served in mezze mostly all over Greece. It's like a lightly fried fritter with dill & mint, slightly creamy inside because of the Feta cheese filling and goes so well with Tzatziki. Definitely must eat authentic Greek food.
6. 
Choriatiki – Greek Salad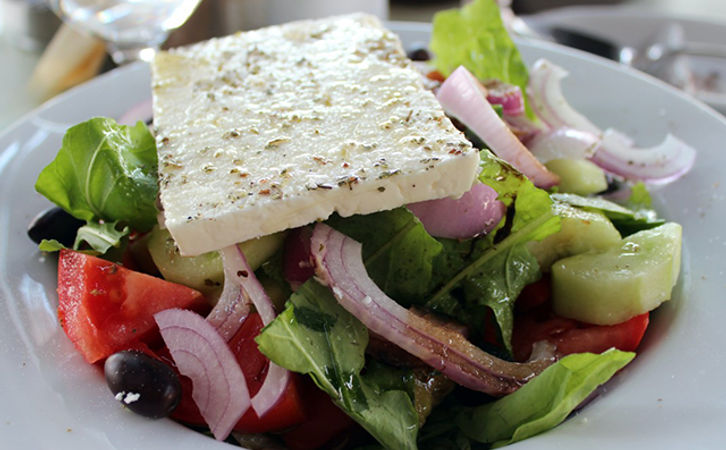 You'll notice that a lot of Greeks eat salads with every meal, and a Choriatiki particularly is a salad made of tomatoes, cucumber, feta cheese and olives / olive oil. With such wonderful fresh ingredients in abundance, you definitely would want to try a Greek salad.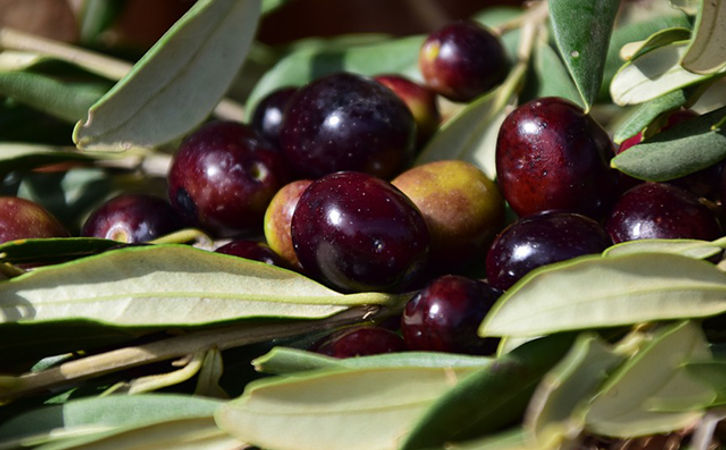 Almost every Greek dish is accompanied with olives, and you'll see the love for olives there is real. It's been cultivated for centuries and has a strong influence on the cuisine. Every dish is usually prepared with Olive Oil too, and you'll see them in many dips and sauces as well.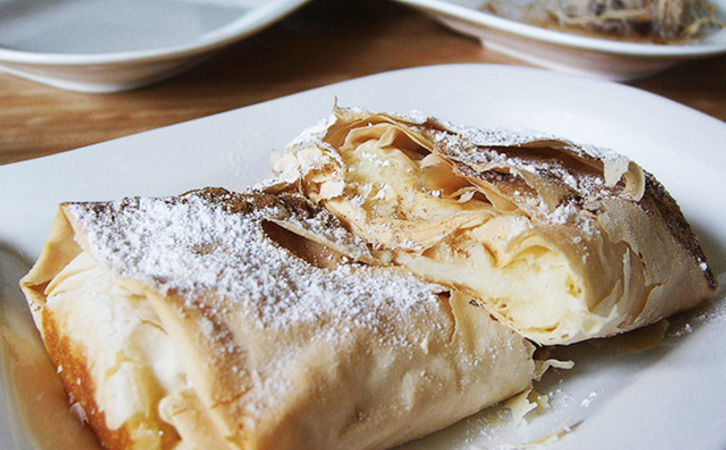 This is a sweet and creamy filo pastry custard pie, that also has its savoury version with minced meat or cheese. This sweet version is usually topped with icing sugar and cinnamon, and is enjoyed as a breakfast dish along with coffee.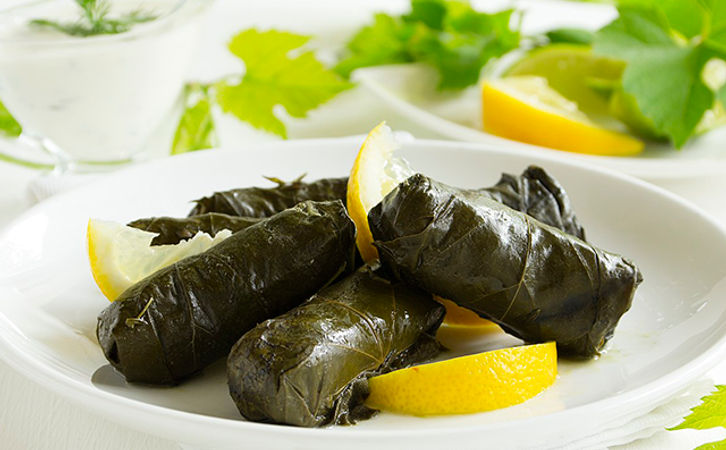 These are absolutely delish. Wrapped in a pine leaf with a filling of minced meat inside along with rice, these are usually eaten as a finger food, and every household has its own variation of it. Some may also include variations with thyme, pine nuts, fennel, or oregano.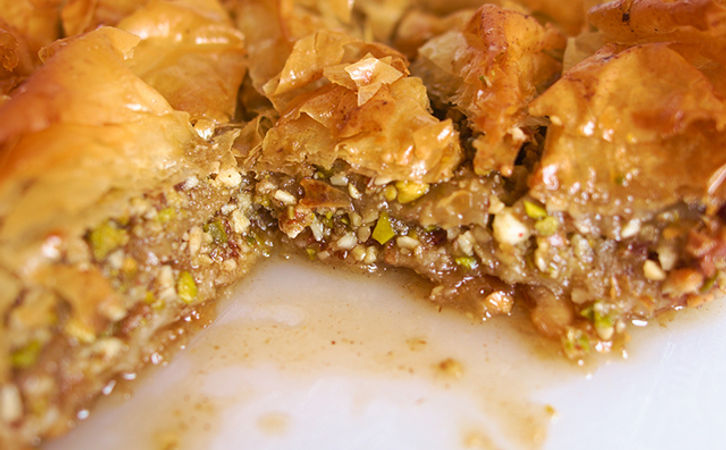 Greeks sure do have a sweet tooth, and Baklava is a perfect example of a tasty sweet treat. A classic Baklava usually has a layering of honey, flaky filo pastry and ground nuts. Something you should definitely not miss out on, and learning how to make this is pretty interesting too.
So are you salivating yet?

We hope that our list of "Must Eat Authentic Greek Foods in Athens" will help you enjoy the best of Greek cuisine and make your trip to Athens a memorable one. If you're planning a trip to Athens soon, do also check out our guide to the most fun things to do in Athens.