Last Updated on July 18, 2022
Heading to Mexico City and looking for scrumptious local dishes?
Don't limit yourself to just restaurants. After all, Mexico City, or CDMX (Ciudad de Mexico), is a street food paradise! No matter how familiar you are with Mexican food, you're sure to go crazy for all the vibrant options that street food vendors have to offer!
But there are so many choices to sort through – what's the best street food out there in Mexico City, and where are the best places to score these eats? Well, we've got you covered with loads of local favorites! So, after exploring things to do in Mexico City, use this street food guide to satisfy your taste buds in the best way possible.
Tacos
Tacos are the quintessential Mexico City street food! They start with a filled corn tortilla,  but the filling possibilities are endless. Classic tacos usually have some type of meat as the filling  (most commonly pork, beef, or chicken). Then, they're topped with salsa, vegetables, spices, and other garnishes. Each type of taco has a distinct name, based on what animal or part of the animal the meat came from, or how the filling is prepared. Check out these 6 popular varieties!
Tacos Al Pastor

Credit: Mexico News Daily
Tacos al pastor are easily the most famous street food pioneered in Mexico City. They're filled with tender, juicy, smoky roast pork marinated and shaved fresh off of a giant spit, then topped with onions and cilantro! The meat cooking method came from Middle Eastern meat grilling and marinating techniques, used to make shawarma. If you're a meat lover, you can't leave Mexico City without sampling tacos el pastor at least once!
Tacos de Carnitas

Credit: Eat Your World
Pork, pork, and more pork—lean pork from almost every part of the pig gets cooked in pork fat, then gets piled on a taco. Did someone say pork?
Tacos Guisados
Credit: Street Gourmet LA
"Guisado" is any type of meat or vegetable stewed in a sauce, paired with rice or beans, and packed into a soft tortilla.  You might find spicy stewed pork or chicken mole versions, to name just a few. And select vendors stuff tacos with vegetarian stews.
Barbacoa Tacos
Credit: Tim Cox/Dallas Observer
Braised, slow-cooked sheep (or sometimes goat) forms the foundation for this taco, which comes in two main types: deep fried with sour cream and cheese, or soft and tender with salsa borracha.
Tacos A La Plancha
Credit: Eater
These tacos are filled with carne asada, or tender, smoky beef grilled to perfection, then topped with avocado or red salsa. They're sure to make your mouth water!
Tacos De Cabeza
Credit: Sasha Gamboa/Chilango
These popular tacos are packed with beef… from the heads of cattle, often carved directly from the slow-cooked skulls. This one's not for the faint of heart, but it is a must-try for adventurous travelers!
Want to learn how to make your own authentic street tacos? Check out this cooking class!

EXPLORE COOKING CLASSES IN MEXICO CITY

Tortas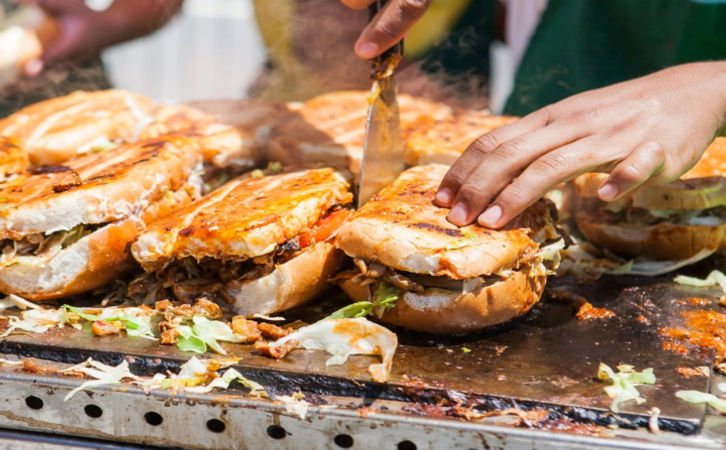 by Conde Nast
Tortas are Mexico City's take on a quick sandwich with a toasted bun (either telera bread or a bolillo roll). They are served either hot or cold. And, like tacos, they could be filled with basically anything. Some popular ingredients include melted cheese, grilled chorizo, tender carnitas, roasted pork leg, avocado, beans, and jalapeños.
Pambazos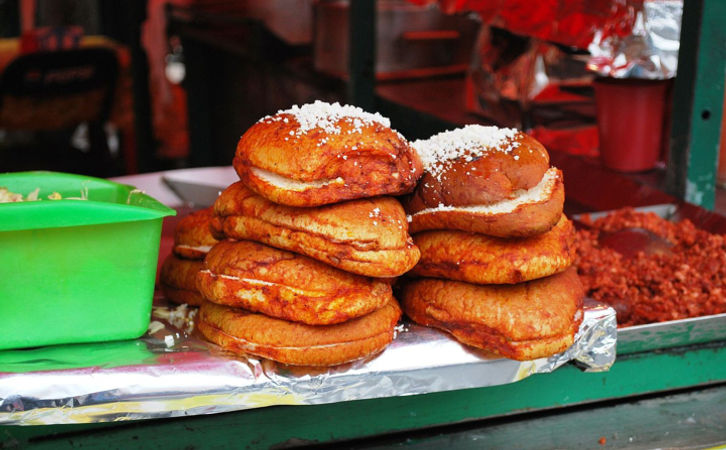 Not every sandwich is a torta, though. Pambazos are harder to find, but super addictive. The bread is dipped in a satisfying guajillo chile salsa and left to dry. Then, it's filled with chorizo, potatoes, sour cream (or cream cheese) and lettuce then toasted. You might have trouble eating pambazos before they fall apart, but the mess is so worth it!
Tostadas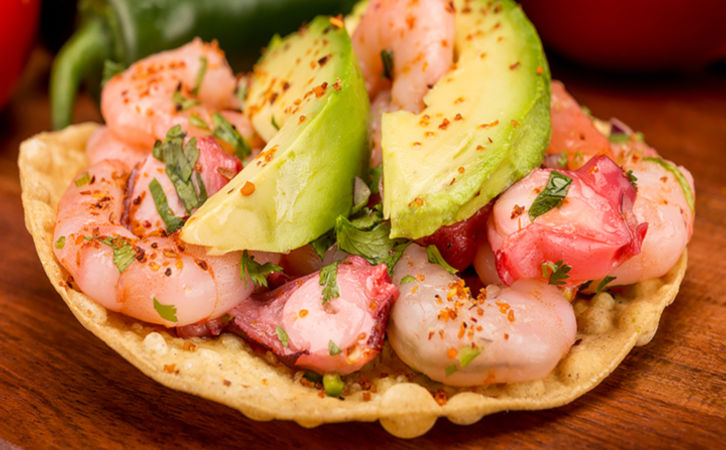 by Tostadas Fanny
Tostadas start with crispy, thin corn tortilla rounds, served open-faced. Then, street food vendors pile on various toppings! If you're a seafood fan, make sure you pick up a fresh shrimp, crab, or even octopus tostada. Want something a little meatier? Go for pulled chicken or pork with salsa or chiles.
Tamales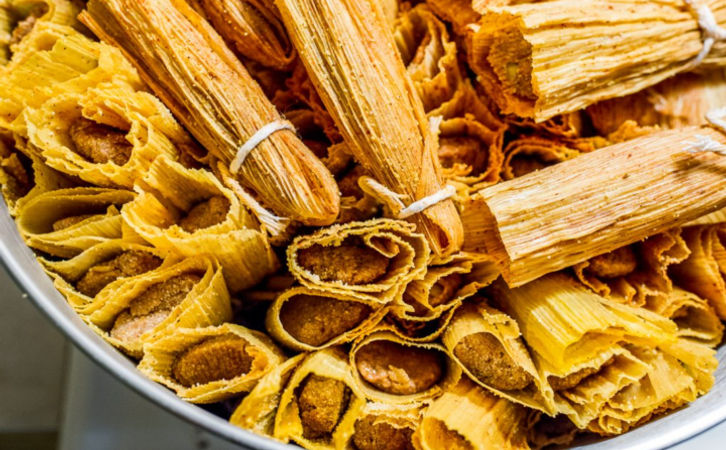 by Verygood.travel
Make sure to pick up one of these filled masa pockets during a Mexico City street food stroll! These pockets are wrapped in a corn husk, then steamed. You'll most likely have one of two versions.
 The fresh husk version is usually topped with sour cream and cheese (fillings vary, as we've seen with many Mexico City staples, but often involve pork, beef, or chicken).
 The dried husk version's probably the most popular in Mexico City; fillings hit every point on the sweet, savory, and spicy spectrums. You'll find them flavored with fruit, salsa verde, chiles, or even chocolatey mole.
Tlacoyos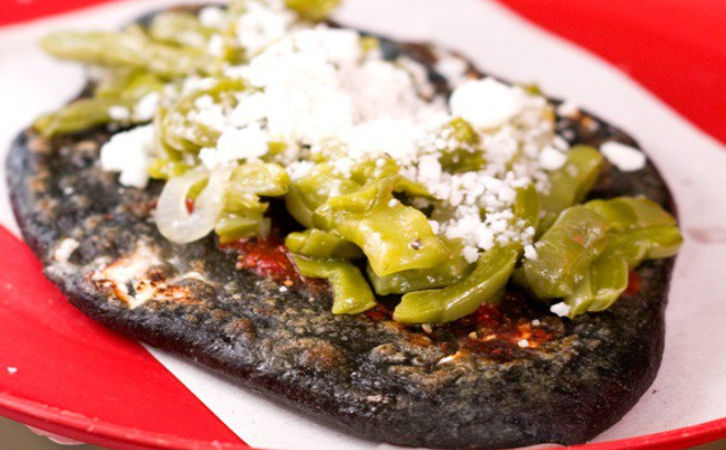 by Taste of Adventure
Tlacoyos are way different than tostadas because they have a stuffed oval base of blue masa (corn)! The most common fillings are either refried beans, fava beans, or requesón cheese. Then, they're topped with salsa, cilantro and crumbly cheese, nopales (cactus paddles), squash blossoms, or other toppings. You'll always eat them hot.
Want to learn how to make tlacoyos? This Mexico City cooking class is for you!

EXPLORE COOKING CLASSES IN MEXICO CITY

Flautas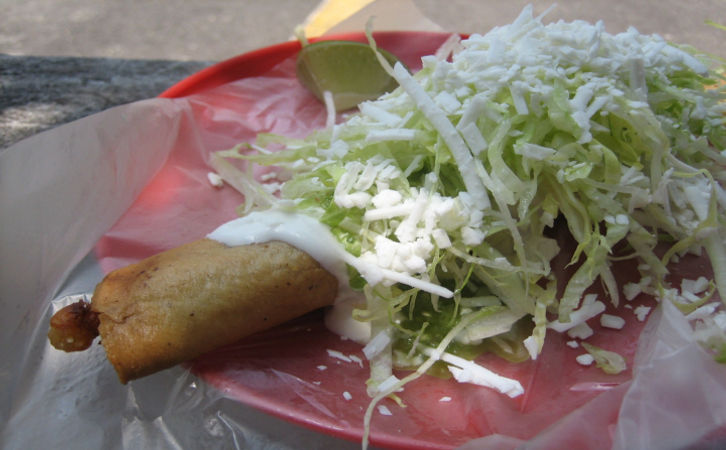 by The Mija Chronicles
Flautas have a name that means "flutes," for good reason. These tightly rolled, long, crispy corn tortillas sure look like the instrument! First, vendors fill the tortillas with chicken, pork, beef, or potatoes, and then they deep-fry the flautas to make sure they stay tight and crunchy. Finally, the flautas are smothered in sour cream, cheese and lettuce. They may seem like taquitos, but they're a bit different.
Quesadillas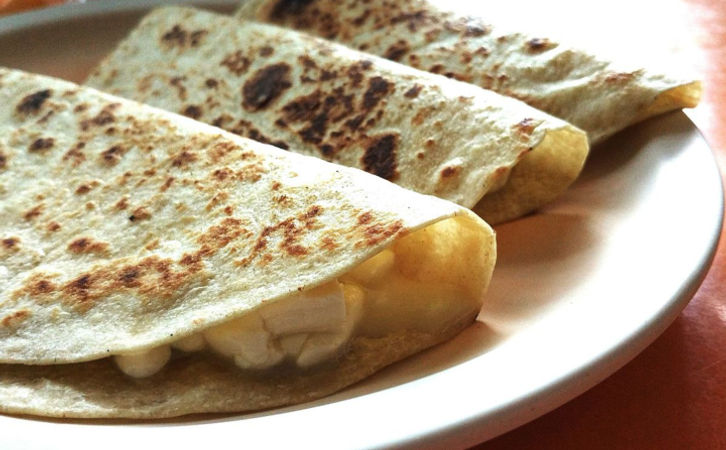 Filled and grilled corn tortillas folded in half over toppings— that sure sounds like the quesadillas you're used to, right? Not quite. Thing is, Mexico City tortillas usually don't come with cheese unless you request it. Popular quesadilla toppings include potatoes, squash blossoms, chorizo, sausage, and pulled meat.
Savory Snacks
Elotes
Credit: Pachuca Vive
Elotes, the famous corn-on-the-cob snack, come in two varieties. The first consists of boiled corn with chile, cheese, and mayonnaise. The second, grilled version is topped with chile, lime, and salt. You'll usually have to wait until nightfall for the elote vendors to come out.
Chicharrones
Credit: Glamorous in Retrospect
Pork fans, get ready for Mexico City's iconic crispy pork rinds! Thin pork skins of all sizes get deep-fried in a giant pot of lard, then dried—and yes, we mean all sizes. Some chicharrones can be one meter wide by one meter long! The locals usually eat them like potato chips and cover them in hot sauce. Be warned, though. There are vendors who sell "knock-off" chicharrones—fried flour versions with no pork involved whatsoever.  Ask before you buy to make sure you're getting what you want!
Jicaletas
Credit: Vice Munchies
Healthy but satisfying, jicaletas are jicama pops covered with chili powder and the famous chamoy. What's chamoy? It's a sweet, sour and salty sauce made with pickled fruits and…more chili. A great choice for vegetarians.
Sweet Treats
Churros
You've probably never had churros quite like the Mexico City version. You might eat these fried snacks topped with sugar or cinnamon sugar, but the best ones come dripping in molten chocolate or dulce de leche sauce!
Camotes
Credit: Chow with Xhico
Do you hear that loud whistle? That's the sound of the camote vendor's cart! Camotes, or sweet potatoes, are pressure cooked inside the cart in a coal oven, and then topped with condensed milk and jam. Where does the whistle come from? That's the vendor letting steam out of the oven.
Spicy Fruit
Credit: Hispanic Kitchen
Mexican fruit (frutas) often comes with a kick— a liberal sprinkling of chili powder, lime, and salt. Pineapples, oranges, mangoes and more get the seasoning treatment.
Thirst-Quenching Drinks
Agua Fresca
Credit: Viva Mexico Party Rental
There are so many kinds of agua fresca, and they're all so refreshing! Many are made from fruit, like guava, mamey, and tamarind. My favorite is the jamaica, though— made from hibiscus flowers!
Licuados

Credit: Eat Your World
Basically, this is the Mexico City fruit milkshake. It's kind of like an agua fresca plus evaporated milk.
Atole
Credit: Mexico City Live
This drink is made from ground liquid corn masa flavored with cinnamon, sugar, and vanilla. It's not as sweet as you might expect, but it fills you up and keeps you warm! It's easiest to find on the streets near the Dia de Los Muertos and Christmas holidays.
Where to Find the Best Mexico City Street Food
Mercado de Merced
Credit: Cleo von Siebenthal/Hong Kong Tatler
Mexico City's largest traditional market is filled with street food vendors. From tacos to tlacoyos to chicharrones and more, this is the place to knock most items off of your Mexico City bucket list. Just watch out, as it can be hard to find your way through the Merced labyrinth. It's best to have a local guide you through and give you advice, or to watch for the stands where the most locals frequent.
Where It's Located: Rosario 156, Centro, Merced Balbuena, 15100 Ciudad de México, CDMX, Mexico
El Huequito in Centro
Credit: Bruce Critchley's Mexico Here and There
Go here for the best tacos al pastor. This family-owned hole-in-the-wall (yes, the name literally means "little hole-in-the-wall") has mastered the art of spit-roasting and carving tender, succulent meat. They marinate the signature pork in loads of chili sauce before thinly slicing it and topping it with cilantro and onions. You'll probably go back for seconds, thirds, fourths, and fifths—both because tacos al pastor are traditionally small and because El Huequito makes such addicting tacos!
Where It's Located: Ayuntamiento 21, Centro, 06050 Cuauhtémoc, CDMX, Mexico
After your mouthwatering time at El Huequito, take this cooking class to learn how to make tacos al pastor and other street tacos:

EXPLORE COOKING CLASSES IN MEXICO CITY

Colonia Roma
Credit: PBase
Even though Colonia Roma has a reputation for being hipster and upscale, there are also plenty of traditional street food stands around, both inside and outside of mercados. It's a great place to visit for the best of multiple culinary worlds! The taquerias (taco spots), like El Rey de Taco,  are especially enticing. And make sure to stop at Mercado Medellin for both Mexican and international flavors! (Mercado Medellin is located at Campeche 101, Roma Sur, 06760 Cuauhtémoc, CDMX, Mexico.)
Pro Tip: Some of the best tacos carnitas and barbacoa stalls in Colonia Roma appear only on the weekends. You'll find the unnamed carnitas stand in the northeast of Mercado Medellin, and the unnamed goat barbacoa stand on the corner of Campeche and Tonala streets.
Check out this cooking class with a Mercado Medellin tour!

EXPLORE COOKING CLASSES IN MEXICO CITY

Chilpancingo
Credit: The Gastrognome
Just a block away from the Chilpancingo metro stop, you'll find a wealth of street taquerias, plus stands selling tlacoyos, flautas, and more. The stands are clustered together, so you'll have plenty of options in one place like at the mercados, but it's easier to make a quick stop while traveling to your next Mexico City adventure.
Mercado Coyoacán and surrounding areas

Credit: FoodGPS
Frida Kahlo enthusiasts will love this market because it's the one she frequented weekly (it's also a short walk from the Frida Kahlo museum, so you can easily visit both on the same day). Make sure to find the Tostadas de Coyoacán stall for some of the best tostadas around!
The locals also recommend buying tlacoyos from nearby vendors outside of the market.
Where It's Located: You'll find Mercado de Coyoacán at Ignacio Allende, s/n, Coyoácan, Del Carmen, 04100 Ciudad de México, CDMX, Mexico
Street food can be the best way to immerse into Mexico's food culture!
We hope you've enjoyed discovering the best street food, and best spots to find it, in Mexico City!
If you're interested in a learning more about Mexican food, we recommend you to take a cooking class!