Hanoi: The City "Between Rivers"
Known for their centuries-old architecture and deeply influenced through its multicultural way of life, Hanoi, the capital of Vietnam, is where we begin our next food journey. "Ha Noi" in Vietnamese means 'river' 'inner', as the city is located between the Red and Song Nhue Rivers. Because Hanoi is so close to an array of scenic rivers, there are many activities available to make your trip memorable.
This infamous city highlights the roots of crafting some of the finest and most authentic Vietnamese cuisine in the world. This includes some of best pho you can get in Vietnam. While it is not a hard dish to find in Hanoi, discovering where you can get the best pho can be challenging.
Continue on reading if you want to know where are some of the best places to eat pho in Hanoi: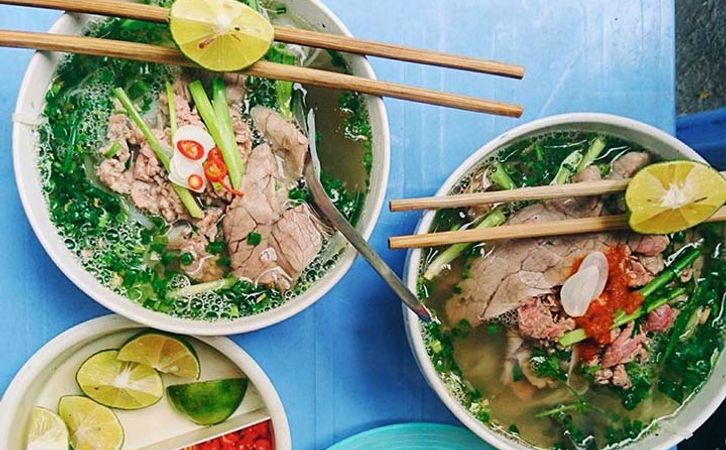 This is where you will Eat Pho like a Local!
To experience the real Hanoi culture of pho, this is a definite go-to place. Gia Pho Bat Dan has one of the best broths at a reasonable price in Vietnam. Open for breakfast, lunch, and dinner, you could stay there or come back for its signature pho throughout your trip.
Come early as the restaurant tends to get crowded with lines in the streets. However, the chefs are very quick to prepare your order. Enjoy an authentic pho broth with tender beef. Gia Pho Bat Dan is worth the meal in Hanoi.
Operating Hours: 6am – 10pm
Address: 49 Bat Dan Street, Hoan Kiem District, Hanoi 10000, Vietnam
Phone Number: +84 24 6683 3535
Price: $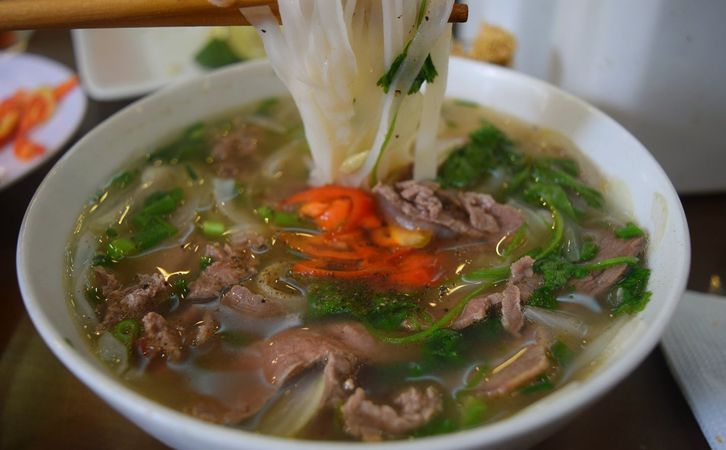 It's not hard to find, look for bright orange!
With native Vietnamese plants lining the reflective and silvery polished entrance, Pho 10 is hard to miss with its big orange banner flying above. Frequently visited by locals as well as tourists, this restaurant has fast service but speaks a limited amount of English. While Pho 10 can get crowded, mouth-watering Vietnamese pho, complemented with doughnuts and a favorite drink of yours is not to miss, especially at reasonable prices.
If waiting in line, sharing tables, or pushing your etiquette isn't your thing, then why not try out a cooking course? Never again will you have to wait in line for a delicious bowl of pho! Cookly has plenty of courses for you to choose from. Find the one that fits you!
Operating Hours: Sunday – Saturday from 6:00 AM – 2:00 PM & 5:30 PM – 10:00 PM
Address: 10 Ly Quoc Su Street | corner of Chan Cam St, Hanoi, Vietnam
Phone Number: +84 4 3825 7338 
Price: $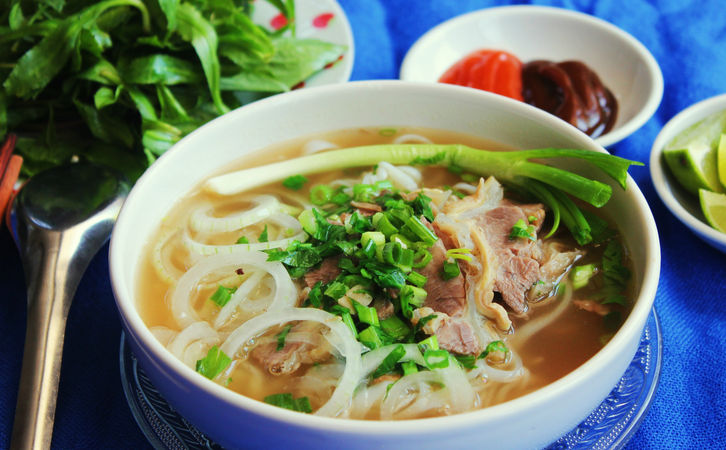 A Hanoi street food experience
From travelers to locals, this pho is hard to overlook in Hanoi. From tasty broth and noodles to rare meat, Pho Gia Truyen is the place you want to get your pho, and if you can, early.
As part of the street food experience in Hanoi, beef does not come less in quality from rare pink and slowly roasted. The staff does not speak much English, so be prepared to speak some Vietnamese or use your app translator to communicate. Pho at Pho Gia Truyen with its rich clear and fragrant stock is definitely worth the wait.
Operating Hours: 6am – 10pm
Address: 49 Bat Dan | Old Quarter, Hanoi, Vietnam  
Phone Number: 043800126
Price: $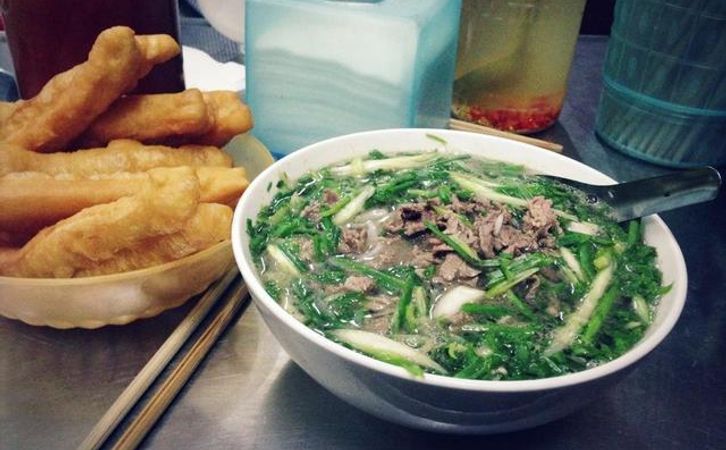 Literally means Asian rice based broth
When you get a classic Vietnamese restaurant filled with locals queing up, while inside is packed, you know you are getting some good pho. Close to nearby hotels and residencies, you will enter a simple eatery filled with several tables and chairs, some lining the walls.
Pho is all Pho Thin serves. Amazing, fantastic, and delicious noodles comes to mind when locals and travelers come to Pho Thin. While the atmosphere exhibits the vibrant culture of local Hanoi, the price per bowl of pho here is very reasonable. It may take you a little longer to get here, but it is definitely worth it. Don't miss this jewel! 
Operating Hours: 11AM–10PM
Address: 13 Lo Duc, Hai Ba Trung District, Hanoi 10000, Vietnam
Phone Number: +84 4 3821 2709
Price: $
5. Serene Cuisine Restaurant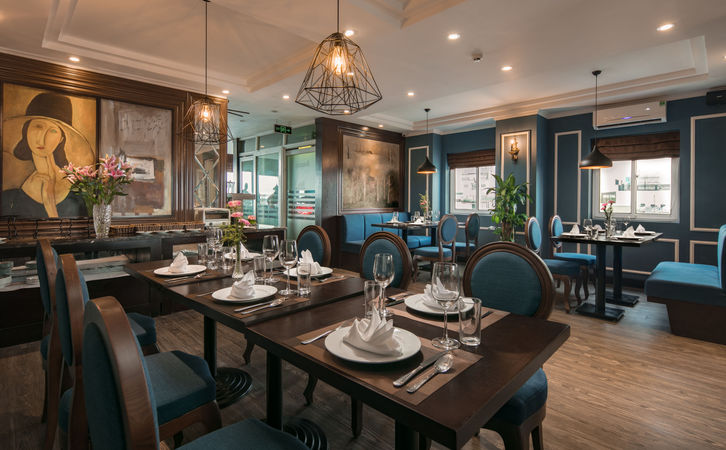 Fine Dine with Pho
It's time to delight yourself with a fine dining experience in Hanoi. Housed in a luxurious yet modern setting, you will find the environment at Serene Cuisine inviting, even before tasting their delicious pho.
Arriving on the 8th floor of the Serene Boutique complex, you will be greeted by very friendly and accomodating staff. Flexible for both vegetarians and meat eaters alike, you will not be disappointed by this elevated dining experience.
From delicious spring rolls, chicken and crepes, to overlooking a gorgeous view of Hanoi, Serene Cuisine Restaurant is a great way to enjoy a part of Vietnam while enjoying a top culinary adventure.
Dishes are well cooked and perfectly seasoned. If you are looking for a fusion taste of Vietnamese cuisine, or feel adventurous to try a variety of Asian and western food as well, this place has it all. This restaurant changes its menu everyday so whether you plan on coming here with your party for a breakfast or dinner, maybe consider both!
Operating Hours: 11AM–10PM
Address: 16-18 Bat Su Street, Hoan Kiem Distr, on the 8 floor of Serene Boutique Hotel, Hanoi 0084, Vietnam
Phone Number: +84 4 3923 4288
Price: $-$$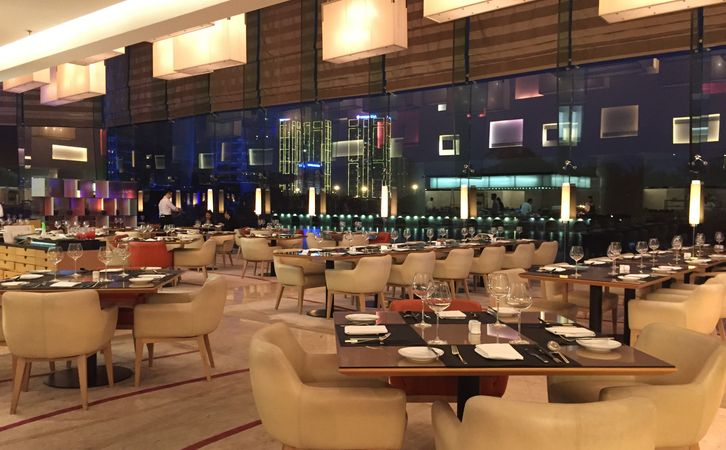 There's a pho buffet?
Yes, there is. At JW Cafe, nearby the JW Marriot hotel, enjoy an elegant fine dining experience in a modern yet luxurious setting.
Overlooking a bustling waterfront plus endless bars of  exquisite buffet sections is the way to go. From sweet tooth desserts and lollipops to a rich variety of seafood and sushi, there is much to pick and choose between designing your bowl of pho here.
The colorful and playful lighting from JW Cafe interior designs will enhance your fine dining experience, as you venture between sandwich bars to cake to meat selections and more!
Operating Hours: Sunday – Saturday from 6:00 AM – 10:30 PM
Address: 8 Do Duc Duc Street | JW Marriott Hanoi, South Tu Liem District, Hanoi 10000, Vietnam
Phone Number: +84 24 3833 5588
Price: $-$$
7. Downtown Cafe & Restaurant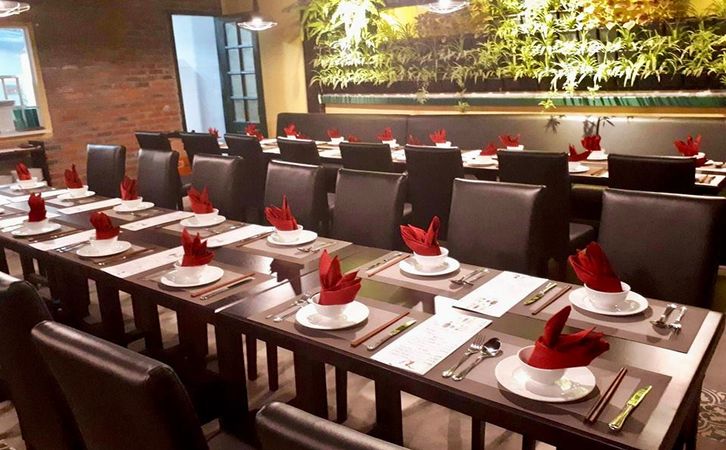 Italian and Vietnamese Fusion Style
From incredible service to an excellent atmosphere, Downtown Cafe & Restaurant compliments fusion cuisine from french toast and fries to Pho and beef noodle soup.
From western style desserts such as Creme Brulee, to fresh Vietnamese shrimp spring rolls and salads, Downtown Cafe & Restaurant will stimulate your taste buds from venturing among different styles of pho.
If you've come back for a big dinner from a long trekking adventure among some of Hanoi's famous sites, you are in luck, as Downtown Cafe & Restaurant stays open late at night.
Operating Hours: Sunday -Saturday from 10:30 AM – 11:00 PM
Address: 17-19 Gia Ngu | Hoan Kiem District, Hanoi 100000, Vietnam
Phone Number: +84 24 6651 8876
Price: $$-$$$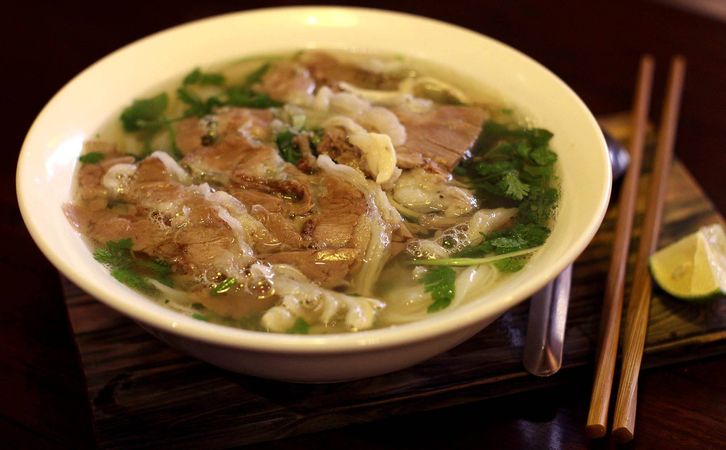 A Music Cafe
Haven't listened to any music on your playlists since exploring Hanoi? Do not worry, we've got you covered at Nhac Cafe. Also known as a Music Cafe, this eatery is filled with modern design so you'll feel a warm music studio environment. Enjoy the dark wood mood setting, as Vietnamese classics and travelers share their music alike from band performances to open mikes from one end of the cafe.
When they are not playing music, they are eating. At Nhac Cafe, enjoy delightful pho with spring rolls at a reasonable price. From noodles with eggs and vegetables, green papaya salads, calamari, noodle salads, and overall generous size dishes, Nhac Cafe is both entertaining with its retro and chill music setting. This cafe is also open late if you are seeking a late night snack or dinner.
Operating Hours: 7AM–11PM
Address: 7 Hang Thung, Hanoi 100000, Vietnam
Phone Number: +84 4 3935 2580
Price: $$-$$$
We hope you find some delicious bowls of pho using this list. If you really want to explore what makes pho so special, be sure to check out one of our Vietnamese cooking classes: