Last Updated on July 18, 2022
Whether you're taking a stroll through one of the winding alleyways of the medina, or checking out one of the many evening food stalls in Djemaa El-Fna square, there is certainly no shortage of good food to be found in Marrakech.
The colorful sights and aromas of dried spices in the souks and the plethora of fresh fruit and vegetables lining the streetsides make it clear that this city has plenty of culinary surprises waiting to be discovered. Here are the top foods you should definitely try if you're ever in Marrakech.
1. Tagine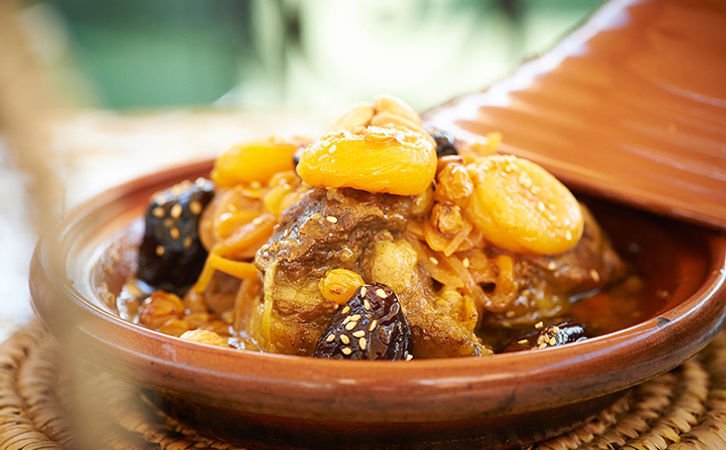 by Les Jardins Du Maroc
Undoubtedly one of the most iconic Moroccan dishes are those prepared in the dome-shaped clay pot known as a Tagine. Tagine dishes are made up of any number of ingredients, but usually include some kind of meat like fish, chicken, or lamb that is left to simmer and slow cooked with herbs, spices, and other ingredients such as dates or potatoes. The possibilities are endless with Tagine!
Riad Jona Marrakech offers small-sized tagine cooking classes that let you bring these recipes to life by learning your way through this unique style of cooking in a personalized setting, and afterward, enjoy eating your culinary creations on the patio or terrace by the pool at Riad Jona
2. Bestilla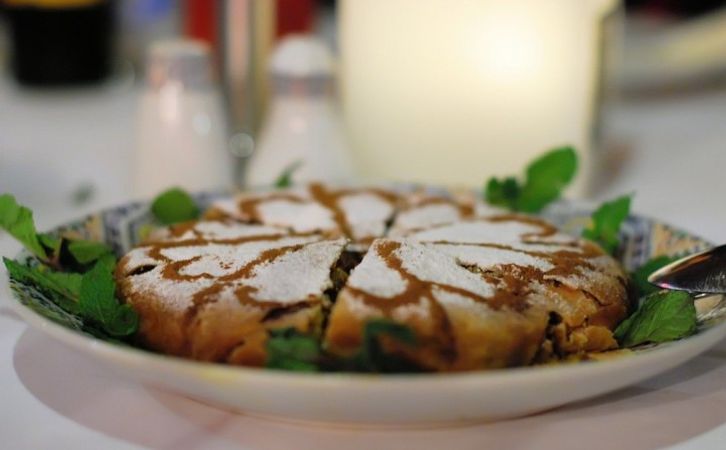 This unique Moroccan dish resembles a savory meat pie and makes use of both sweet and salty flavors. Usually filled with shredded meat slow cooked in broth and spices, Bestilla is layered on the outside with a crispy, flaky pastry that is often topped off with a dusting of powdered sugar, cinnamon, and toasted almonds.
The mixture between the the luscious aromatic flavors of the meat mixed with the buttery, sweet flavors of the pastry will leave you wondering why you've never tasted anything like it before!
3. Couscous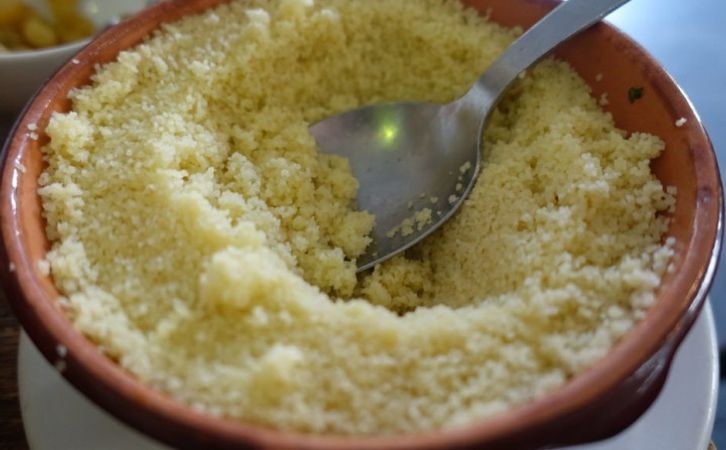 A trip to Morocco is not complete without trying Couscous. A classic cornerstone of authentic Berber cuisine, couscous is eaten with a variety of different dishes including assortments of cooked vegetables or meats and is another common Moroccan staple.
Couscous is especially popular on Fridays after prayer and is a longstanding tradition in Morocco, so much so that some restaurants can be found only serving couscous dishes on Friday. Couscous looks like a fine grain, but is actually made from durum wheat semolina and the final product, when cooked, more closely resembles a pasta.
Lucky for you, couscous is an extremely common dish and can be found all over Marrakech, and you can learn to make it yourself through a number of different Moroccan cooking classes.

Take a Cooking Class at Marrakech

4. Chebakia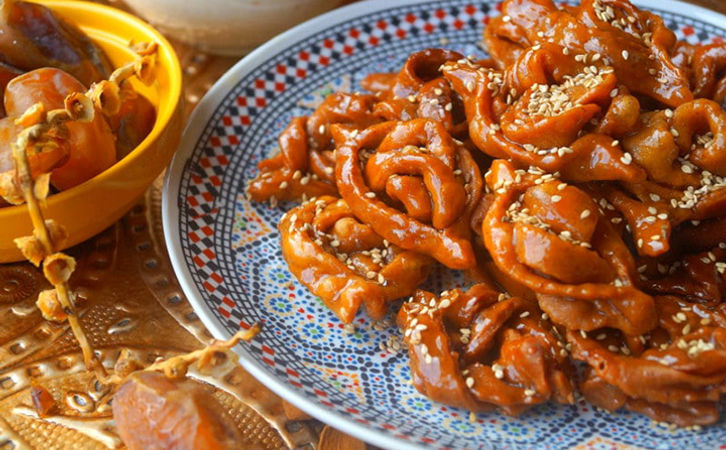 by Aux Delices Du Palais
This sweet pastry is made from strips of dough that have been rolled, twisted, and folded into the shape of a flower, fried, and then generously coated in syrup or honey, as well as sesame seeds. This tasty treat is especially popular during Ramadan, but can be found all around town during any time of the year.
There are a number of cooking classes in Marrakech that can teach you to bake your own Moroccan pastries.
5.  Moroccan Mint Tea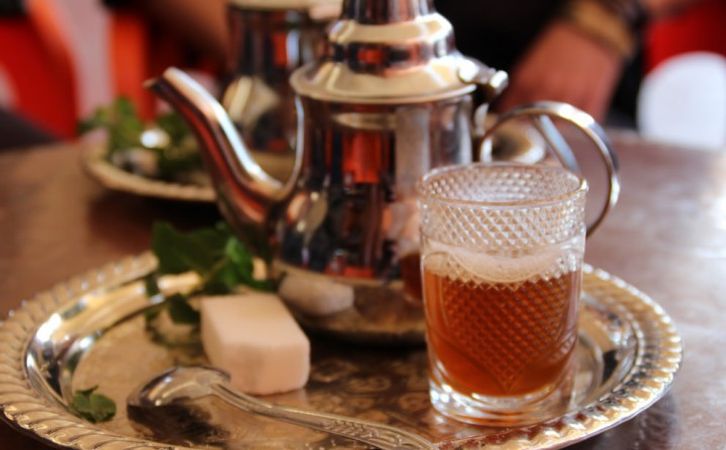 by Flickr
A staple all over Morocco, the sweet mint tea can be found nearly everywhere, from devoted tea shops throughout the city, to restaurants, to roadside stops serving up hot glasses with fresh leaves of mint. It is something you absolutely have to try if you find yourself in Marrakech, it's certainly worth it.
The tea is enjoyed throughout the day and is drank by nearly everyone, and it really is delicious! If this sounds like something you'd like to learn how to make, Libzar cooking class in Marrakech will teach you!
6. Bissara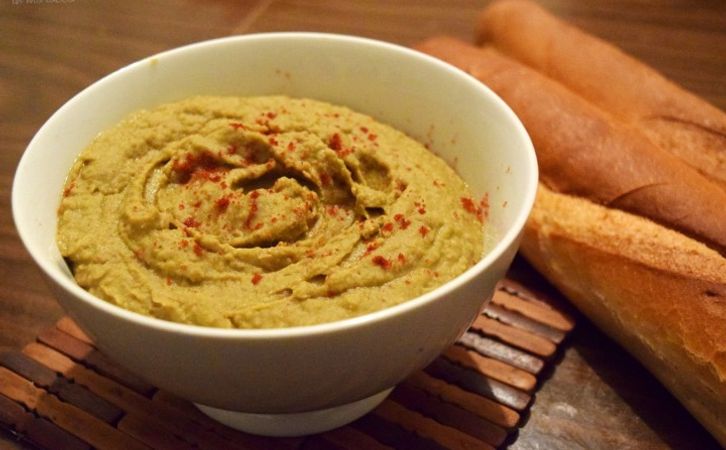 by bewilderedinmorocco.com
Bissara is a unique soup made from fava beans that have been simmered and slowly cooked with onions, coriander, turmeric, cumin, paprika, and a variety of other spices before being served with a drizzle of olive oil and lemon.
Often eaten for breakfast or as a snack, Bissara can also be served as a dip. There are a few cooking classes in Marrakech that will gladly teach you how it's all done.
7. The Juices and Fresh Fruits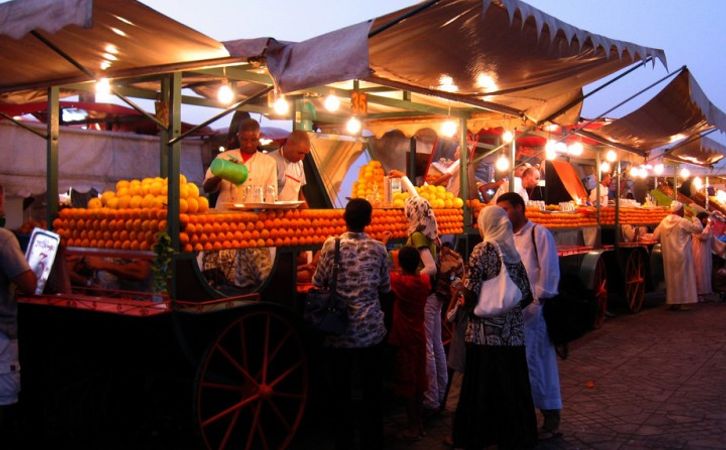 When walking through the streets of the Medina it's hard to ignore the abundance of fruits that come together to create a colorful tapestry of fresh food that seems like it's just begging to be eaten. The local citrus is easily some of the best in the world.
If you ever find yourself near Djemaa El-Fna square or in one of the neighboring alleyways of the souks, you're never too far away from the best glass of orange juice of your life. Yes, really, it's that good.
There are plenty of cooking classes that give you the opportunity to delve into these markets and look around for yourself, going beyond just the fruits and veggies to create your own Moroccan menu that you can bring to life in the kitchen.
8. Harira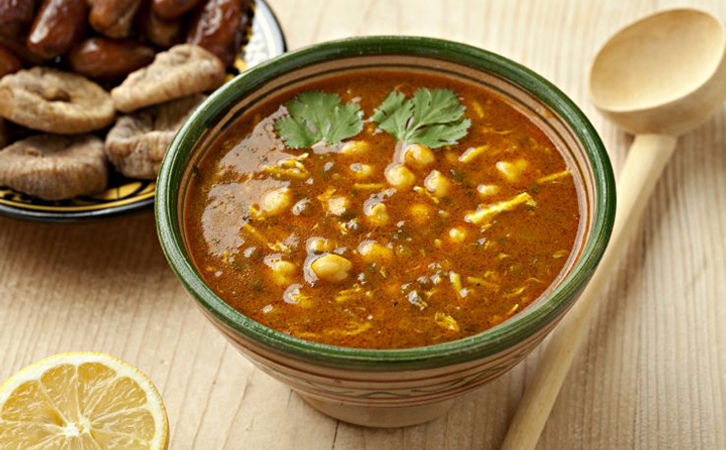 by Taste of Maroc
Harira is a traditional Moroccan soup made up from lentils, chickpeas, and tomatoes. It is commonly enjoyed as a snack or light dinner, especially towards the end of Ramadan. The soup takes on many different forms as recipes vary to include beef, lamb, chicken, vegetables, rice, and even pieces of Vermicelli or thickened by slowly adding egg to give the soup a different texture.
Riad Jona and Clock Kitchen are great places to check out in Marrakech if you're interested in learning how to make this dish.
9. Zaalouk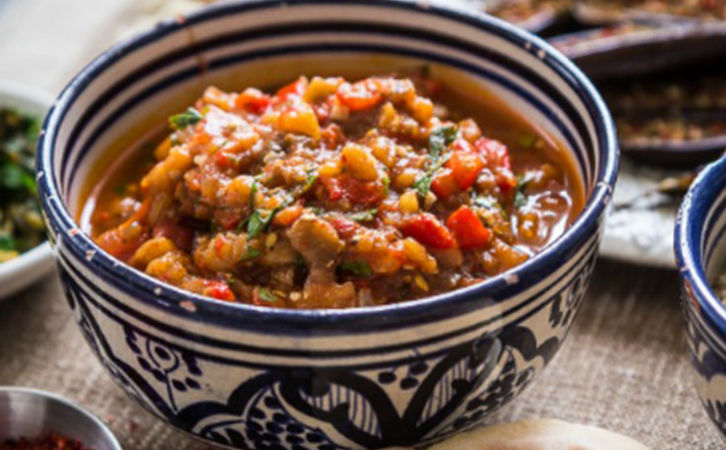 by Demuths Blog
Made from tomatoes, eggplant, and spices, this cooked Moroccan salad is often served alongside a meal with bread for dipping. Zaalouk is cooked through a process of simmering the tomato and eggplant with garlic and a variety of seasonings till it becomes soft and tender and served with a fresh drizzle of olive oil or squeeze of lemon.
10. Msemen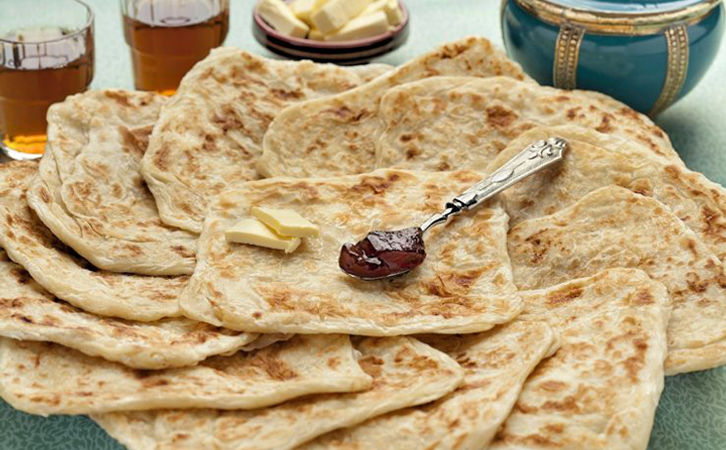 by Taste of Maroc
Msemen is a Moroccan flatbread made from kneaded, layered dough that is heated into a stretchy pancake-like bread that goes great with butter, jam, or a cup of mint tea.
It is commonly eaten with breakfast, and can be found at bakeries and food stalls all around Marrakech. You can get some experience making this Moroccan staple at a cooking class in Marrakech.
There are plenty of things to eat in Marrakech but we hope you found this guide to be helpful. You can actually learn how to make most of these dishes. Be sure to check out www.cookly.me and book an amazing food experience or cooking class: