Last Updated on July 18, 2022
Madrid: a bustling, cosmopolitan European city where there are more restaurants and bars per capita than any other city in the EU. It is inevitable that any person will stumble upon restaurants, cafes, mercados, and tapas bars of all kinds. Anyone visiting or living in Madrid will see that visiting these places and lounging on outdoor patios and terrazas is simply a way of life.
Madrid is filled with restaurants serving up Spanish food from all regions of Spain. However, there are many specific traditional dishes known to be enjoyed mainly in Madrid and are served to perfection wherever you go.
Traditionally, lunch (la comida) is the biggest meal of the day and tapas are a handful of small dishes that are enjoyed in the early evening. One of the most notable aspects of Spain is "siesta" (rest/nap time) when basically everything shuts down from the hours of 2-5 pm for many businesses, while it is extended until 8 or 9 pm for restaurants. This gives Spaniards time to rest after enjoying a large meal with family and close friends. The tradition of siesta has been on the decline over the past decade, however, it is still something to keep in mind when traveling to Madrid.
Madrilenos shape their days of eating and drinking these typical foods:
1. Tortilla Espanola (Spanish Omelette)
Photo vis Serious Eats
One does not eat as the Spaniards do until they have a pincho de tortilla, or what we refer to it as a Spanish Omelette. It contains only a few key ingredients:  eggs, potatoes, onions, olive oil, salt and pepper. Spaniards consider this dish a tasty staple in their diets. Tortilla Espanola can be served cool, room temperature, or even warm, and can be eaten at any time of the day. Pez Tortilla on Calle del Pez serves over 15 different kinds of homemade tortillas such as tortilla with mushrooms and truffle oil or jamon.
2. Bocadillo de calamares (calamari sandwich)
Much of the food that is eaten in Spain is consumed in a bocadillo, or a roll. A roll with fried squid is yet another staple in Madrid, with restaurants such as Bar la Campana and Bar Ideal in Plaza Mayor only serving this sandwich. This simple, yet delectable sandwich consists of deep-fried rings of squid inside a toasted white roll with lemon squeezed on the top if that suits you.
3. Croquetas (croquetes)
Source: @carreteromolero via unsplash
Croquetas are delectable and filling bites that are served as tapas or side dishes at many bars and restaurants along with a glass of wine or beer. Croquetas are coated in bread crumbs and deep-fried with a choice of food bits and bechamel sauce or mashed potatoes in the middle. Similar to tortilla Espanola, Spaniards love to experiment with different ingredients inside the croquettes. There are many different types of croquetas such as the most popular jamon serrano (typical Spanish ham), chicken, mushroom, or even cod.
4. Huevos Rotos
From reading through, you may be thinking that Spanish food is only eggs and potatoes and in some ways that is a correct statement.  However, it is made with love each time and the flavors are rich. Huevos rotos, or broken eggs, is just that, crispy potatoes or french fries as the base with over-easy eggs broken on top (you may need to "break" them yourself). Most of the time they are served with jamon serrano or chorizo, but if you are a vegetarian you can order huevos rotos "sin jamon". Taberna Los Huevos de Lucio in La Latina neighborhood serves up the best Huevos Rotos in the city.
5. Gambas al ajillo (Garlic Shrimp)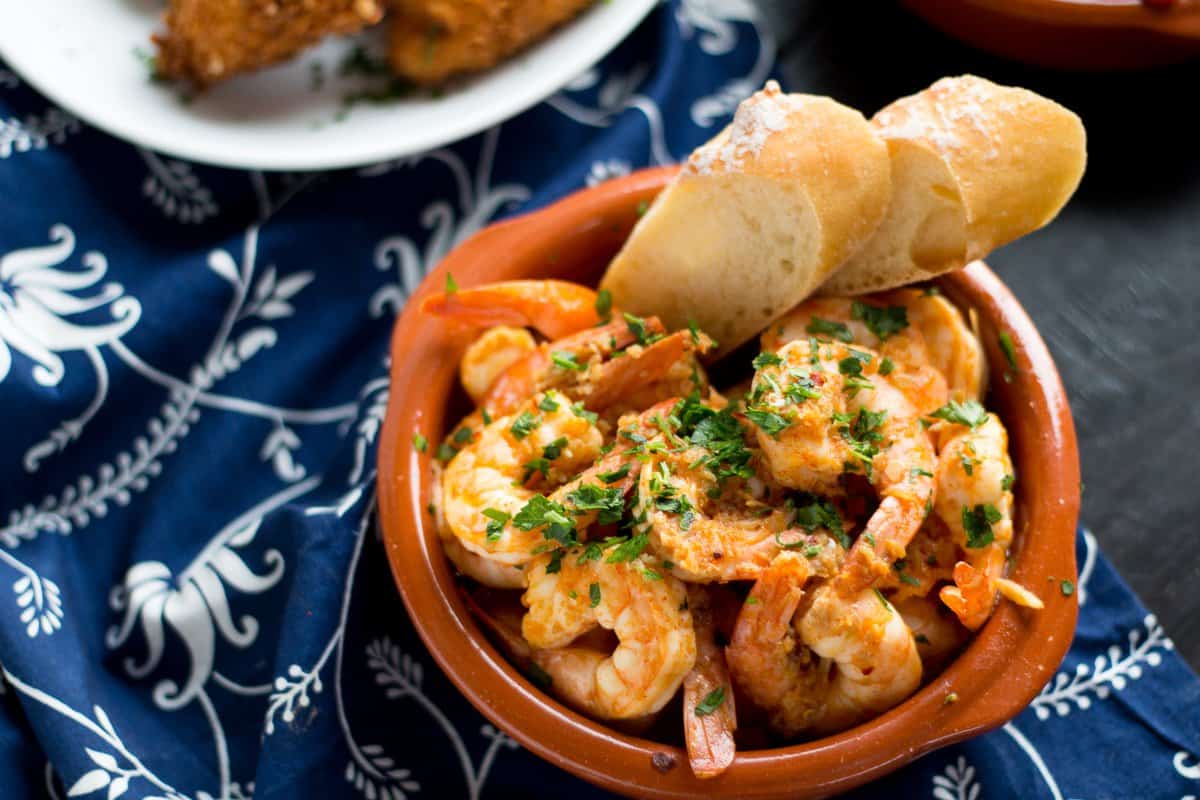 Photo via Fox and Briar
A favorite Spanish dish, gambas al ajillo, is served at every restaurant in Madrid. The shrimp is soaked in garlic and olive oil with lemon juice and hints of paprika for a spicy kick. Locals love eating this with a glass of vino tinto (red wine) which compliments it perfectly. Enjoy this dish with warm toasted bread served and some parsley to top it off.
6. Cocido Madrileño
Photo via Ang Sarap
This filling Spanish dish has been renowned across Spain since middle age times. Cocido madrileno is a chick-pea based stew that is the perfect winter dish to fill and warm your stomach. The stew simmers for hours consisting of legumes, vegetables, meats, and a savory broth. Cocido is said to be eaten in three stages: first the soup is served, then the chickpeas and vegetables, and lastly the pieces of meat that have been cooking in the cauldron all day.
7. Callos a la Madrilena (Madrid style Tripe)
Another classic chickpea stew dating back to the middle ages, this dish is a classic in Madrid. Mainly served in a clay dish, this stew consists of beef tripe, chorizo, and blood sausage. This savory stew is also eaten mainly during the winter in many of the bars and taverns alike.
8. Pimientos de Padrón (sauteed peppers)
Hailing from the region of Galicia, this essential Spanish dish is a favorite of all the tapas and also one of the easiest to prepare! From reading this list, you will note there are not too many tapas consisting of the color green.  Well, these green peppers will give you that color and veggie staple needed in your tapas. Sauteed in a lot of olive oil and salt, they are blistered to perfection in a hot saute pan which is the secret to serving these yummy peppers.
9. Jamon Iberico (Spanish ham)
When one thinks of cured ham and slicing the meat off a pig, the only place that comes to mind is Spain. According to Spain's origin of denomination rules on food, Jamon Iberico must be made from black Iberian pigs or at least 50% of this pig. With a rich savory taste, you can buy this staple at many restaurants, bars, mercados, supermarkets – essentially everywhere in the city! I personally loved going to the Mercado de San Miguel for this delectable meat or the famous Museo del Jamon where hundreds of pigs are hanging from the ceiling – complemented with a cerveza. A snack of Jamon Iberico can be enjoyed along with toasted bread and perhaps a bit of queso (cheese). Others enjoy eating the ham while drinking cold dry sherry.
10. Chocolate con Churros
Last on the list but certainly one of the most important is a delectable dessert you can't leave Madrid without tasting. Chocolate with churros are sold all over the city with many spots that specialize in them. Churros are fried to perfection, coated with sugar, and served and dipped in creamy hot chocolate fudge on the side. Chocolateria San Gines near Puerta del Sol has served these beloved treats since 1884.

Check out more of madrid's food culture with a cooking class!