Osaka is, arguably, the center of Japanese food. Unlike the usual, subtle taste of most Japanese food, Osaka is very proud of their distinctive and "friendly" tastes – just like their people! Osakans are known to be friendlier than those who live in Tokyo, and their cuisines are a true reflection of that. Plus, Osaka is the perfect place for a street food hunt!
So, if you're planning to visit the friendliest city in Japan during your trip, here are 10 must-try foods you should get in Osaka!
Source: @dricapinotti via unsplash
Takoyaki is perhaps the most famous food in Osaka. Although known all over Japan and even in a lot of other Asian countries, takoyaki is native to Osaka. Takoyaki are chunky octopus bits, wrapped in flour dough, shaped into a ball and fried lightly into a perfect golden brown. Pair it with some takoyaki sauce and a topping of bonito flakes and seaweed, this delicious treat should be the first thing you get when you travel in Osaka!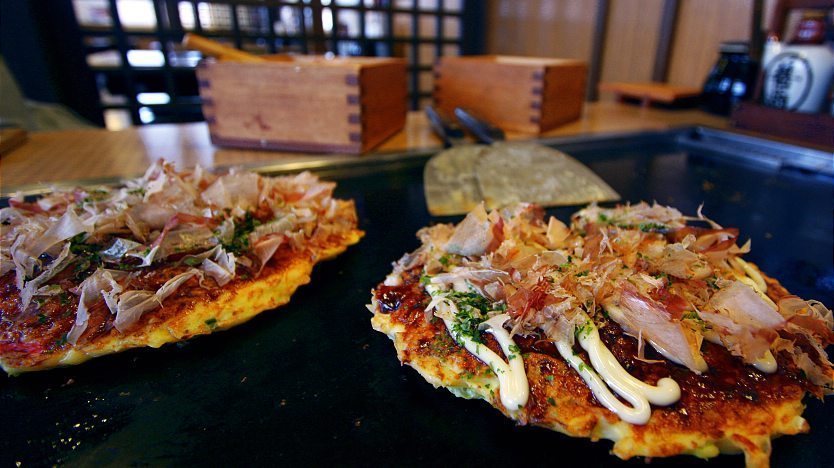 This is essentially savory, cabbage pancake. This treat is made with flour, water, cabbage, and a mix of your favorite topping. You can even ask for a topping of yakisoba, which is Japanese-style of fried noodles. In some restaurants, you can make your okonomiyaki yourself using the tepan set on the table. However, if you need help you can always ask the staff to help you through it or get it made straight from the kitchen! It's the perfect side dish to drink with some cold, refreshing beers.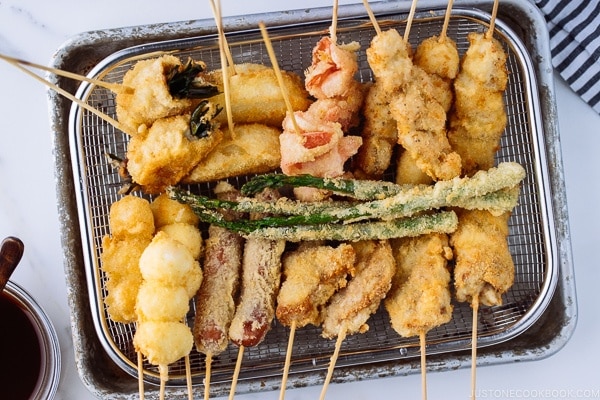 It seems that the number of fried treats in Osaka is never enough. And for a good reason! Who can resist a tasty, crunchy treat such as Kushi Katsu! Kushi katsu, or kushiage are a variety of foods (basically, almost anything worth frying), pierced with a bamboo stick, and deep-fried to perfection. Dip it in the special sauce that's provided and enjoy it while it's hot!
This cheap treat is often sold in restaurants, on the street, or in izakayas (traditional Japanese bars). The only rule is this; no double dipping in the sauce! If you need more sauce, you can scoop it out with some raw lettuce that is usually provided on the table.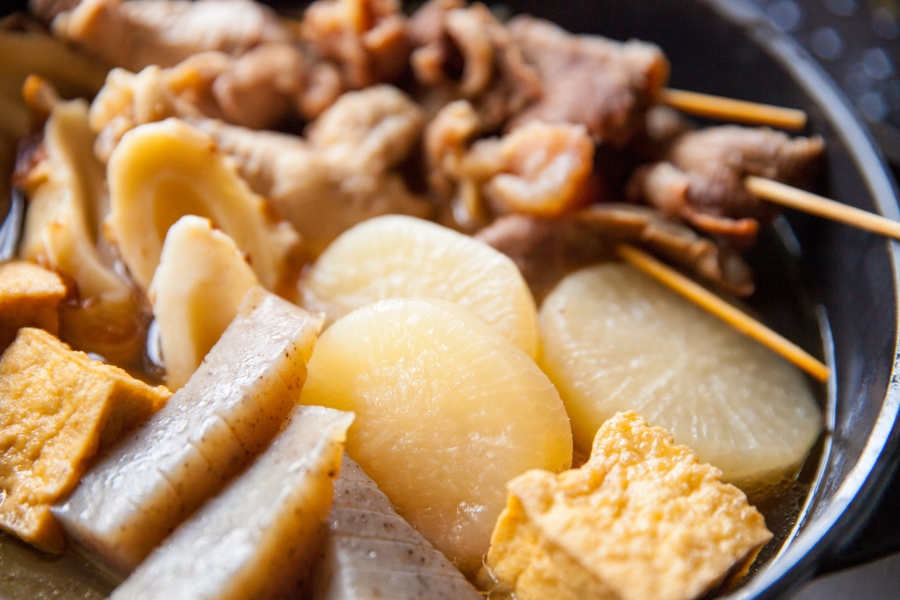 Tired of all the greasy food already? Get back to a healthier side and enjoy some tasty soup with some fish-based treats! Oden is a winter treat known all over Japan. While you can put almost anything you want inside the soup, the most common items are radish, konjaku, and chikuwa. They're usually served with condiments such as chili pepper or mustard. You can get this staple treat from various restaurants or stalls in the street, or even from the nearest Lawson or Seven-Eleven during colder seasons. Just keep an eye out for some skewered food in a bubbling, brown, delicious broth.
Source: @stefentan via unsplash
Osaka's foods are heavily associated with various cultures. Japanese curry is one of the results of that blending. Rather than the strong taste that is associated with other Asian curries, Japanese curry tends to have a sweeter, creamy aftertaste. Although you can find it in many different forms, the most well-known style to eat curry is with a serving of warm white rice and some fried tonkatsu (pork) serving. Since Osaka has some of the best curry restaurants amongst Japan, make sure to eat some before you leave!
Pork bun. Yup, it's not exactly a type of cuisine you'd associate with Japan. However, in Osaka, it has become a sort of favorite snack for the locals. The most famous bun is from 551 Horai, a restaurant chain that you can find almost anywhere in Osaka city. These Chinese-style pork buns are filled with a mixture of vegetables and pork, steamed into perfection and delivered fresh from the kitchen straight into your hands! Perfect for a cold night; warm food for the belly and for your hands to hold.
7. Uncle Rikuro Cheesecake
Have you seen that jiggly cheesecake that has been everywhere on social media recently? Well, this is where you can get them. Uncle Rikuro Cheesecake is known best for its jiggly, soft, souffle-like cheesecake, that is best eaten as soon as you buy it! It's also fun watching them get taken out of the oven. A staff member rings a bell and stamps each cake with the trademark Uncle Rikuro sign. If you think you'll never be able to finish a whole cake by yourself, prepare to be surprised. These light, fluffy, lighter-than-air treat will get you addicted till the last bite!
Photo via Backpackerlee
Get ready to eat some sweet "fish"! These fish-shaped snacks are usually made from sweet red bean paste, covered with a light batter, and cooked on an open metal girdle. Although nowadays you can get them with various fillings and all different types of dough, it is traditionally filled with the classic red bean paste and covered with a thin crispy batter. Don't forget to try this sweet unique treat during your trip!
Source: @youjeencho via unsplash
Although Udon is a common food to be found, Osaka has some of the best Udon restaurants in Japan. Don't forget to try some Kitsune Udon; an udon menu with a light soup, served with some sweet stewed tofu that is said to originate from Osaka! It is also said that Udon is best eaten when you have stomach problems since it is easy to digest. This is the perfect local comfort food to have after a rowdy night at an izakaya.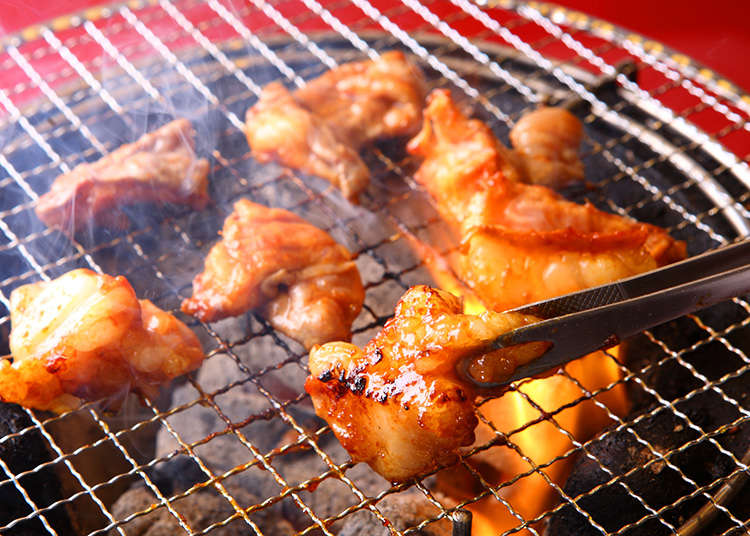 Enjoy the local meat fest at a yakiniku restaurant! Although you might be eating indoors, you are most likely to get a charcoal grill set in front of you. This creates a unique taste to the meat, but you'll probably smell a bit burnt by the time you leave. You'd need to barbecue the meat by yourselves, so make sure to not overdo it!
Horumon is a type of random meat dish that is usually whatever is inside a cow's stomach. Just like the beautiful, marbled pieces we usually drool over, horumon also offers us a new palate that is undeniably delicious! This dish originates from Osaka, which reflects the local understanding of practicality and "not wasting anything". Try it for yourselves and maybe you'll enjoy it more than the actual meat!