Known to the locals as the center of arts and culture in Bali, Ubud is chock-full of fun activities that you could try on during your travels! Located in the higher parts of Bali, admittedly, Ubud does not have any beaches. But due to its elevation, you can enjoy a beautiful view of lush tropical forests, rice fields, and rivers! It's the perfect place to unwind and take a break from the beach heat and relax under the shades of trees. Here are the top 10 activities you can get up to during your visit to Ubud.
1. Get on a giant swing with beautiful backdrops of rice fields and tropical forests
This is the perfect excuse to whip out your phones and brag to your friends on social media! This recent trend allows you to get on (literally) giant swings with breathtaking views. For a price, you can get on different swings. Each one offers a different angle or view. Moreover, the site is jam-packed with other photogenic backdrops such as "nests" made out of ratans and branches in which you can get in and take pictures with. Ubud has a few places to offer for these services, such as Bali Swing and Zen Hideaway. If you rent a car with a driver, just ask them for bits of advice. They'll be sure to take you to the best one that fits your budget!
2. Beach clubs are overrated; Here's a river club
Ubud gets creative and uses its lush greeneries and cool streams to create the most spectacular river clubs! Just like beach clubs, these river clubs offer multitudes of entertainments and pools. Unlike beach clubs, they are definitely cooler; no pun intended. 
Depending on the river club, they may have spots that are connected straight to the river. If you get a chance to dip your feet in the river, you'll feel the gentle streams swept your tiredness away. Some of the most well-known river clubs are Wanna Jungle Pool and Bar, Swept Away, and Folk Pool and Gardens.
Since rivers and beaches are all regulated by the government, there are no private rivers and beaches in Bali.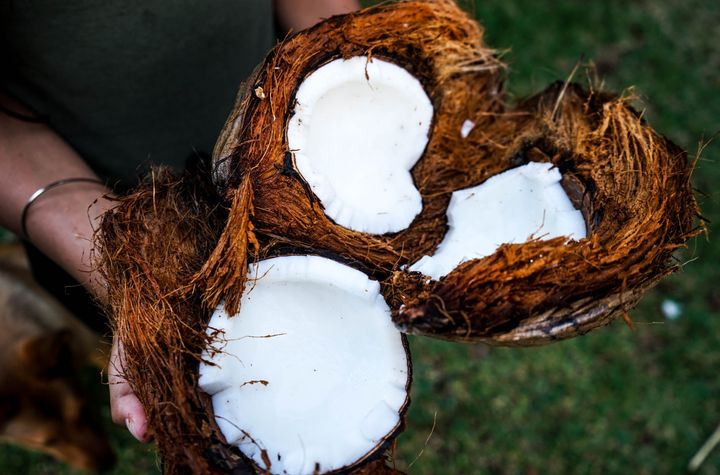 In Indonesia, there is a saying that parents tell their child: "be like a coconut tree". Why? Because every part of a coconut tree is useful! Here in Bali, you can create your own coconut oil. Coconut oil is essential to Balinese culture as very multifunctional, not to mention the aromatic smell it provides. Here are some coconut oil making classes you could join in Ubud!
4. Pamper yourself for a day in the spa
The spa might sound like splurging on any other day. But hey, who can judge you? You're on your holiday! Spas in Bali are relatively cheap, compared to other countries. If you're one for strong aromatic fragrance, then you should definitely try the traditional Balinese massage, which is a mixture of two styles of the Chinese massage and Thai massage, combined with essential oils. You can also try the traditional spices massage or the Boreh massage which uses the local ingredients to relieve pain and stress.
5. Eat-in the middle of the rice field
This is a unique experience that will make you really appreciate nature. Take a breather and enjoy a meal out in the fields. There are various restaurants that have small huts set up in the middle of a rice field, which is a really good excuse to take a rest under any kind of weather! Most of the restaurants that offer these facilities usually cater traditional Balinese and Indonesian food. Feel free to try some duck and chicken, either fried or grilled, depending on your preferences!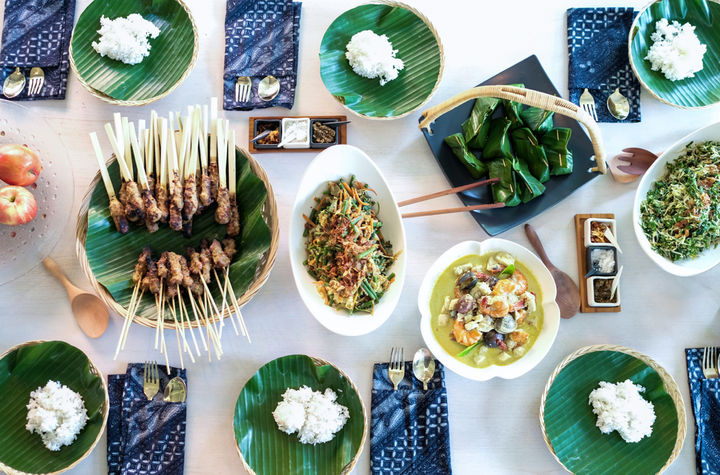 No holiday is complete without taking a bit of your destination back home! And what's better than bringing your favorite local dishes back home to share with your loved ones? Learn new skills that you can use to create authentic Balinese dishes anywhere at any given time! Try your hand at creating Ayam Betutu, Bumbu Rica-Rica, or the local favorite (and ours!)….Sambal Matah! Here is a list of available cooking classes in Ubud you can try during your spare time. I promise you, it's worth it!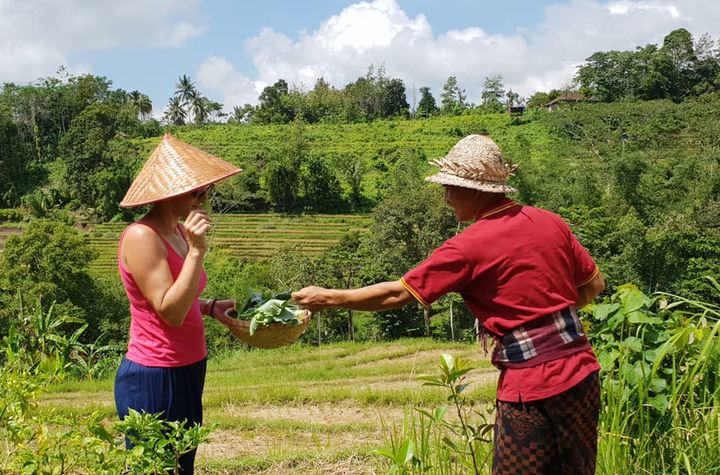 I mean, sure, you can just head down to the open rice field following everyone else and take some pretty pictures (or fall into the ditch of the rice fields. Based on experience, it'd be hard to get out of that). But joining a rice field trekking tour could be so much more memorable! For instance, you could learn how to create the best rice – how to cultivate it and then how to process it. Rice farming in Bali is unique because they develop a technique that adapts to the mountainous terrains. It's called "Terasering", and if you join a guided tour, you'd get more information about this technique. Here is a rice field trekking tour you can take up! Just be careful to watch your step.
8. Shop for art pieces and trinkets at Pasar Seni Ubud
A must visit place in Ubud! As we touched on before, Ubud is known for its arts and culture. You can find multitudes of art galleries and unique spots that pique your interest along the way. If you really want to find something unique for a reasonable price, head down to Ubud Art Market. Meet up with the artists behind the art, and find out more about why Ubud is known for their artsy vibe. Who knows what you'll find there!
9. Watch a traditional Kecak Dance
It's a treat to watch this magical performance in Bali! Kecak dance is iconic and native to Bali. It tells the story of Ramayana, a prominent hero figure in Hindunese. It is said that 1000 apes help Ramayana in his battle. 
The dance is performed by 50 to 100 men, with every dancer sitting in a circle with their hand raised and made a fast tempo "cak" sound. This is why the dance is named as Kecak dance. During the performance, these dancers are often unconscious since they are contacting the spirits, which then take control of their bodies. It is a magnificent cultural and heritage performance. You can watch the Kecak dance in Pura Dalem, in Jl. Raya Ubud (Ubud Street). The performance usually starts at 7 PM right after sunset.
10. Discover yourself through a yoga session
Ubud is also known for its tranquil ambiance, which is perfect for a yoga class! There are professional yoga classes that suit your level, be it advanced or even beginners. A simple yoga exercise can really help you to clear up your stress and your mental state. Refresh yourself both inside and out during your holiday in Bali! It is relatively easy to find a yoga class around Ubud, so you can just keep looking out for signs or Google away!