Phuket: A mountainous, rainforest rich island with some of Thailand's most popular beaches.
Phuket may seem small, but it's Thailand's largest island. It's teeming with breathtaking landscapes, beaches, and amazing viewpoints. However, Phuket is more than just a pretty face. It's filled with history, a boisterous nightlife and remarkable street food.
Don't be fooled by its' size, Phuket offers a plethora of unique experiences sure to satisfy the wanderlust in you. This guide will help you discover some of the must-see attractions and things to do in Phuket.
Today we're going over just 14 of the most fun things to do in Phuket, but there's countless more, so it's time to get exploring.
We also have a little surprise waiting for you at the end of the article!
But let's have a look first at our list below with 14 Fun Things You Must Do in Phuket:
1. 
Try visiting all 40 islands in Phang Nga Bay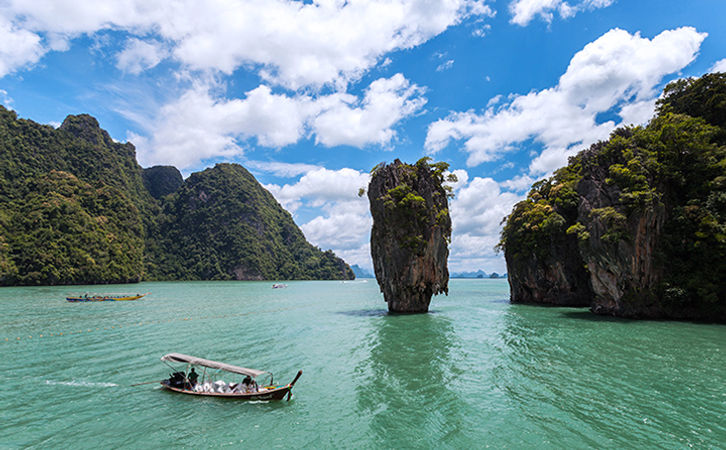 How can you fit all those islands in one place?!
Phang Nga Bay is comprised of about 40 small islands in a bay of beautiful emerald-green water. It's a natural masterpiece with lagoons and caves scattered throughout.
The bays' location protects it from the elements ensuring the waters are always calm. This makes it the ideal spot for kayaking and snorkeling. Enjoy a relaxing day at bay, leisuring drifting from island to island admiring the beauty of Phuket.
Recommended: James Bond and Koh Panyee are two of the most popular islands. Check out these two if you can't make all 40!
Getting there: Driving to Phang Nga Bay makes for an exciting journey. However, if you don't have a car, it's very easy to book a boat from your hotel.
2.  
Check out the 140 foot Buddha!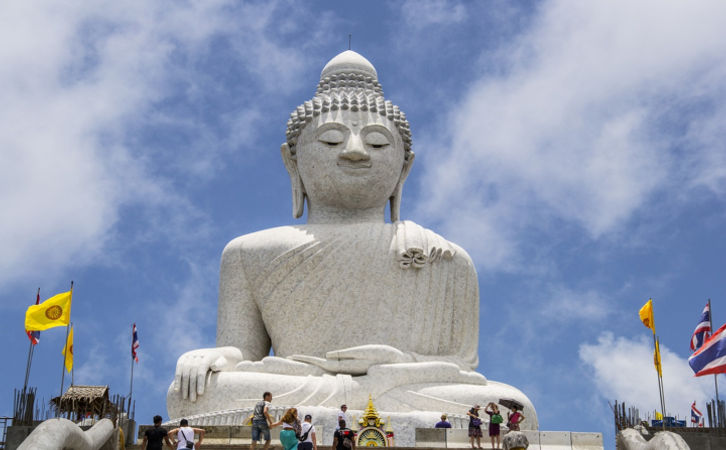 This Buddha is big and I mean BIG.
Resting atop the Nakkerd Hills, this Buddha has a height of 45 meters, a 25.45 meter width, and weighs 135 tons. Despite its historical appearance, the Buddha was built in 2007 and completed in 2008. It's made out of white jade marble which causes the Buddha sparkle in the light of the sun.
Thanks to its position atop a hill, you're able to get an amazing panoramic view of Phuket. Take a moment to admire the Buddha and step up to the plateau where you can take in Phuket's beautiful landscape.
Operating Hours: 6 A.M. – 7 P.M. everyday
Price: It's FREE to enter everyday!
3. 
DON'T ride an elephant in the Elephant Sanctuary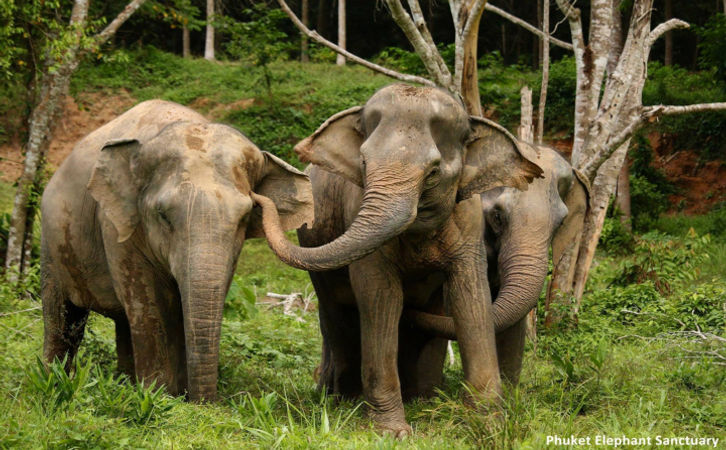 Help protect and save the elephants!
The Phuket Elephant Sanctuary meets the highest standard in animal welfare. Much of their efforts go to rescuing, retiring, and rehabilitating elephants that have been harmed in the trekking industry.
Here you'll learn all about elephants, support the ethical treatment of elephants, and of course meet, play, and pet these adorable animals!
Tip: Book at least 1 week in advance or 2 weeks if you plan on visiting from Dec – April.
Price: Tickets start at 3,000 BHT.
Address: 100, Moo 2, Paklok, Phuket Thailand
4. 
Learn how to cook Phuket's best dishes!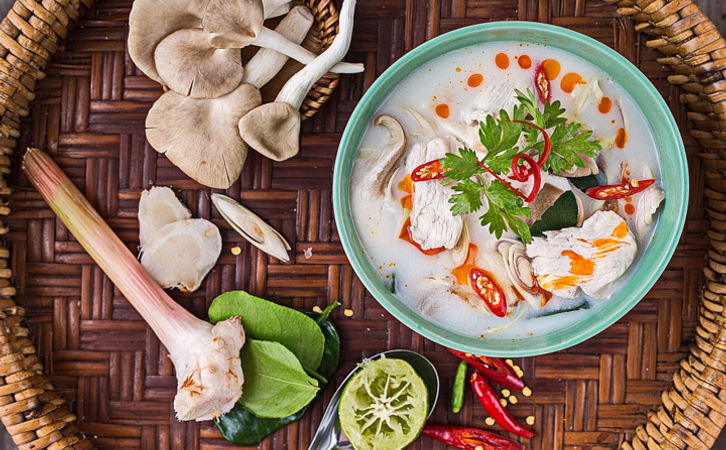 Why not take a taste of Thailand home with you by learning how to cook some of their most popular dishes. Take a cooking class to experience and learn Thai food culture in the most authentic way. Learn how to make green chicken curry, mango sticky rice, duck in red curry and more. You can even go on market tours as part of the cooking classes. Check one out today!
5. 
Experience the fantastical Simon Cabaret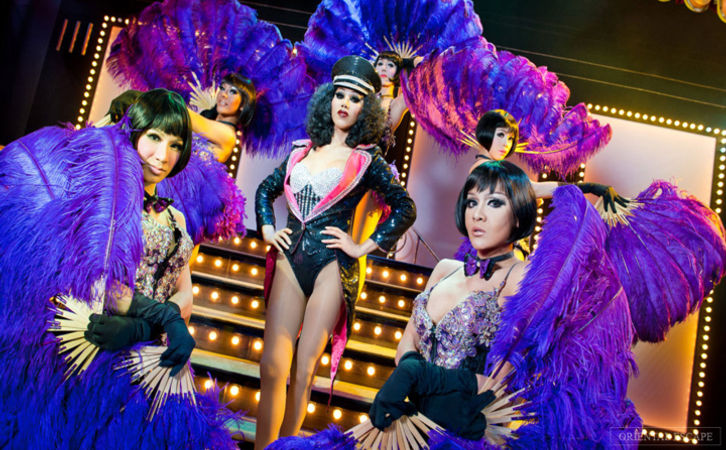 Enter this stylish auditorium for a night of glamorous entertainment. Simon Cabaret consists of a transgender crew that has been performing for just about 25 years. Be prepared for a mixture of comedy, song, dance, and plenty of fun as these girls put on the show of a lifetime. Don't be afraid to bring your kids as well. The show is for all ages and you'll often see children accompanying their adult counterparts.
Tip: Stay until the show ends, there's usually an opportunity to meet the cast!
Price: Tickets start at 700 THB.
Show Timings: Shows are daily at 6 PM,  7.45 PM and 9.30 PM
Address:  8 Sirirach Rd, Patong Beach
6. 
Prepare for some vertigo at Baan Teelanka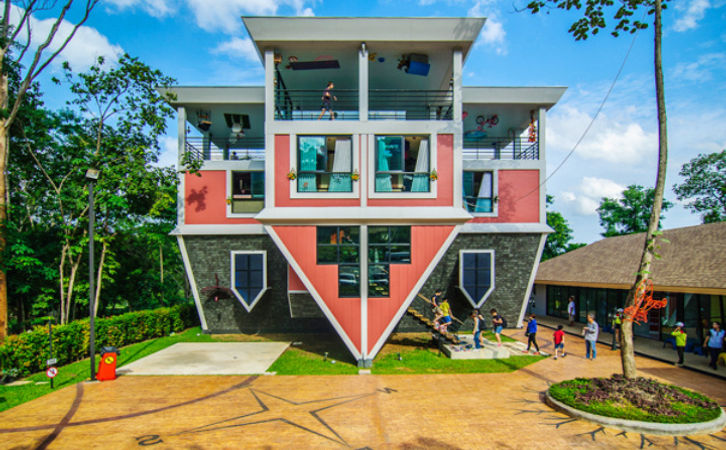 This attraction will turn your world upside down.
Baan Teelanka is one of Phuket newest attractions. Stand on the ceiling and notice the floor below you inside this 80's themed fun house. Make your friends wonder how you did it with an unconventional photo!
After disorienting yourself, be sure to check out the intensive garden maze. There's also an escape room known as The Chamber of Secrets. Put your wit and brain-power to the test in this 60-minute challenge.
Price: Tickets are 250 BHT for adults or 150 BHT for kids between 4 and 11.
The garden maze tickets are sold separately and cost 150 BHT for adults and 100 BHT for kids.
Operating Hours: 10 AM – 6 PM everyday
Address: 51/11 Moo 5, Chalermprakiet Ratchakan Thi 9 Road, Ratsada, Phuket Town, Phuket 83000, Thailand
7. 
Take a step back in time in Old Phuket Town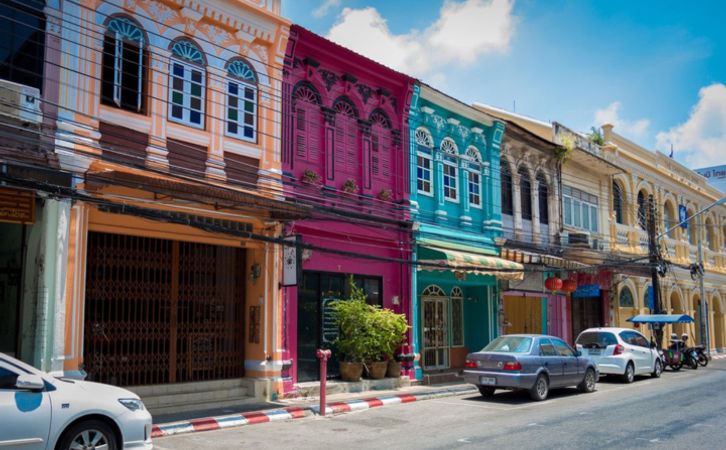 Before Phuket became a travel hotspot, it was a mining town and Old Phuket was booming with trade and travelers from across asia and Portugal. Many of the Sino-Portuguese mansions are beautifully preserved and the shops are as vibrant as ever.
Old Town may look 200 years old, but it's teeming with unique start-up cafes, art galleries, music, bars, and more. It's the perfect combination of history and modern day Thai culture.
Tip: The best time to visit is late in the afternoon when the sun begins to set. You'll see the town light up and avoid the heat!
8. 
Explore the 6 Phi Phi Islands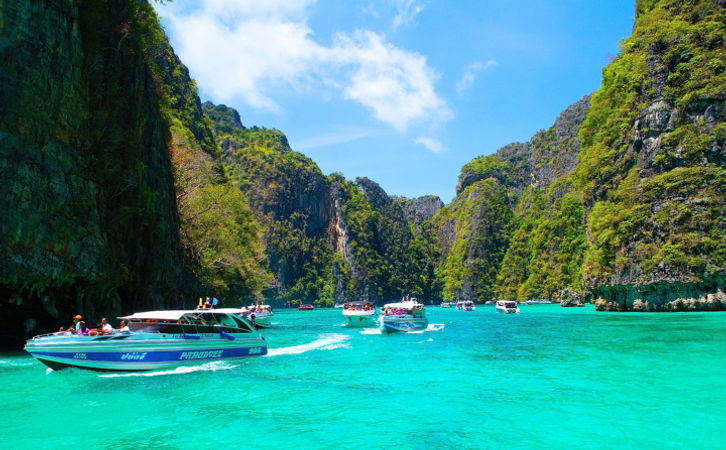 6 Islands, thousands of memories.
Out of 6 islands, Phi Phi Don and Phi Phi Leh are the main two. Phi Phi Don is the largest, inhabited island from the bunch. It's beautiful, spacious sea shores and marvelous rock formations attract hundreds of visitors each day. Phi Phi Leh, on the other hand, is completly uninhabited. It's home to the famous Maya Bay which features several small white sand beaches. The crystal clear water is home to tropical fish and colorful coral which can be seen from above the surface.
Getting there: The islands are a 2 hour ferry ride from Phuket. The main port of departure is  Rassada Pier, which is located in Phuket Town.
Price: Booking a ferry ticket will cost about 500 BHT for a one way ride.
9. 
Gaze over Phuket from Karon Viewpoint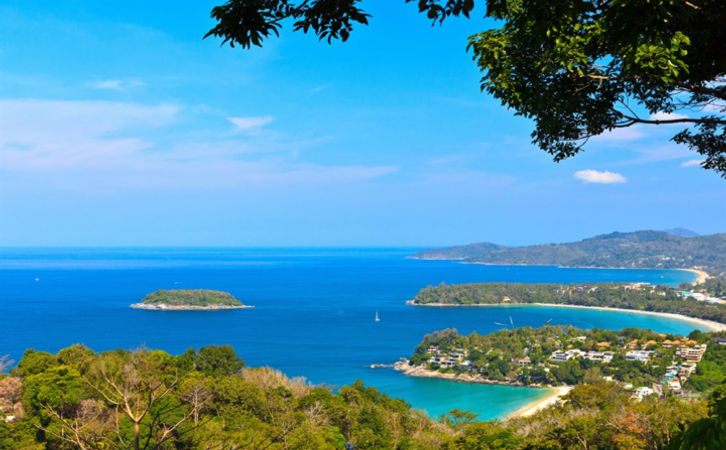 Catch a glimpse of 3 beaches at once.
Probably the most popular viewpoint in Phuket, Karon Viewpoint sits atop a hill south of Kata Noi Beach. This point over looks Andaman sea where you can catch a glimpse of Kata Noi, Kata Yai, and Karon beach. Due to its popularity, you'll see countless tourists also trying to take a picture perfect photo.
Getting there: Karon viewpoint is on the south side of Kata Noi Beach situated on the road between Kata and Nai Harn.
10. 
Enter Phuket's largest temple, Wat Chalong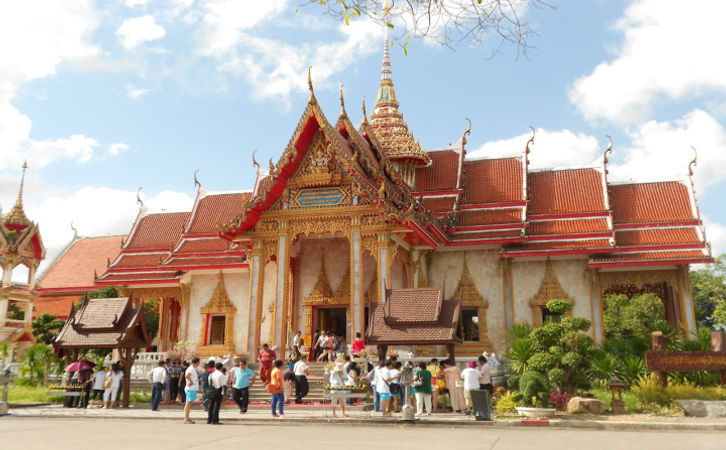 Wat Chalong is Phuket's largest and most visited temple. Upon entering, you'll be greeted by Poh Jao Wat, a stunning red-roofed building which houses statues of Ta Khee-Lek and Nonsi. The highlight of this attraction has to be the Grand Pagoda. It's ornately decorated with red and gold details. Inside you'll see Buddha images depicting his life and a small splinter from Lord Buddha himself.
Tip: Wat Chalong has a strict dress code and code of conduct. Shoes are not allowed inside the temple, women are required to wear clothing which covers their shoulders and bottoms which cover their knees. Visitors are not allowed to touch any relics and a quiet voice must be used within the temple.
Hours: 7 AM – 5 PM Daily
Address: Chao Fah Tawan Tok Road, Chalong, Phuket Town, Phuket 83000, Thailand
11. 
Spend the night shopping at the Weekend Night Market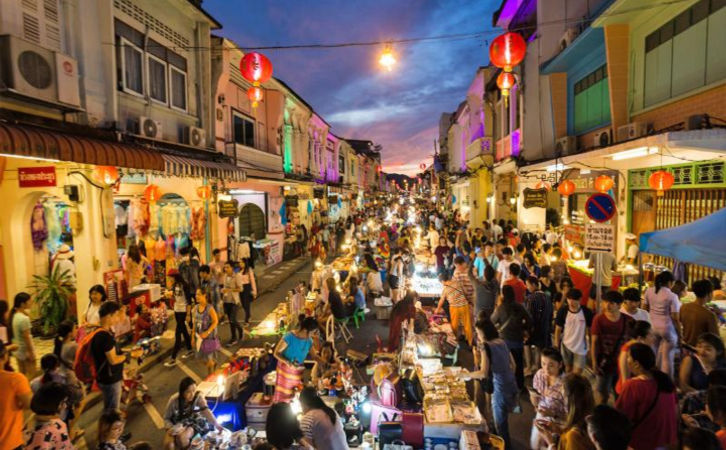 Known as the Naka Market, you'll find everything from fruits, street food, live animals, clothes, and even some pirated goods. The amount of goods for sale are endless. And the deals and cheap foods are abundant.
Right of the main entrance is where the magic happens. You'll find food stands galore selling Thailand's most delicious snacks and treats. Spicy sausage, fish cakes, and fried insects just to name a few. The buttered corn  on the cob is surprisingly popular and is recommended as a must-try on your trip to Naka Market.
Tip: Arrive close to opening time to avoid being crowded.
Address: Thalang Rd, Tambon Talat Yai, Amphoe Mueang Phuket, Chang Wat Phuket 83000, Thailand
Hours: 4 PM – 9 PM Saturday and Sunday
12. 
Enjoy the sunset at Promthep Cape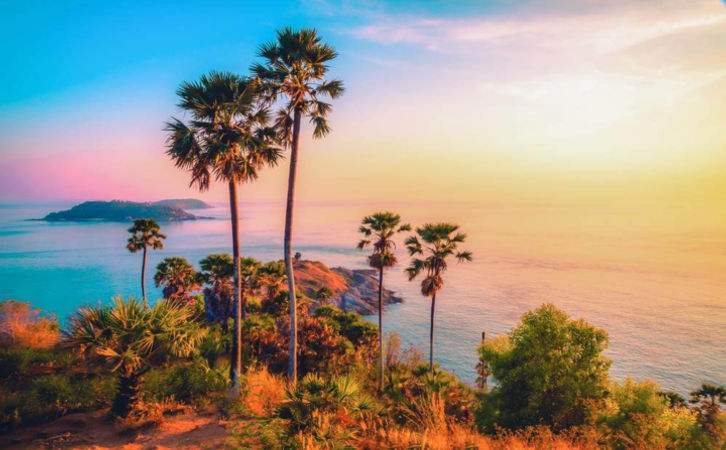 Located at the southernmost tip of Phuket, Promthep Cape sits atop a hill right above Rawai Beach. To many it's known as the best spot in Phuket to photograph sunset. You'll see cars and busses stretched across the beach as everyone waits for the sun to set.
There's a little more to Promthep Cape than just a great view. A lighthouse filled with maritime artifacts and offers beautifully, clear photos and views of the Phi Phi Islands during the day.
Address: Mueang Phuket, Mueang Phuket District, Phuket, Thailand
13. 
Hike with monekys on Monkey Hill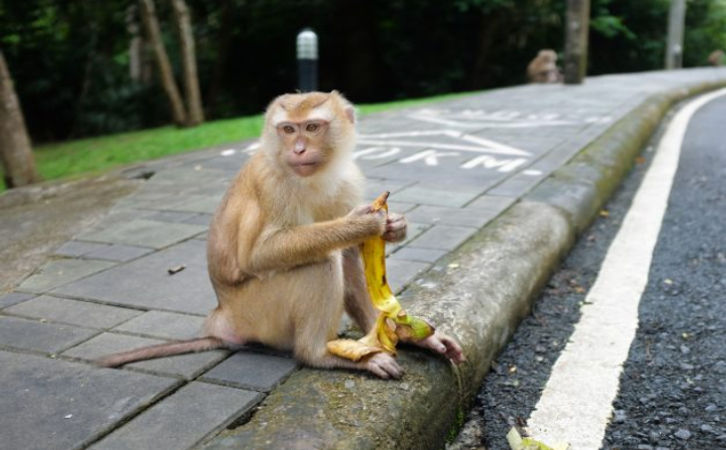 Don't let them steal your wallet!
Referred to as Monkey Hill, Toh Sae Hill is the tallest hill in Phuket Town. It's home to about 400 macaques who are often seen munching on fruits given to them by locals. The monkeys are an adorable site to see and don't worry, they aren't known to harm humans. But be careful with your belongs. You might find a cheeky monkey trying to steal your food!
Toh Sae Hill also has a man-made platform near the top of the hill. It was built as a viewpoint showcasing Phuket's city and it sure does a wonderful job displaying the gorgeous city.
Address: Ratsada, Mueang Phuket District, Phuket 83000, Thailand
14. 
Bar hop on Bangla Road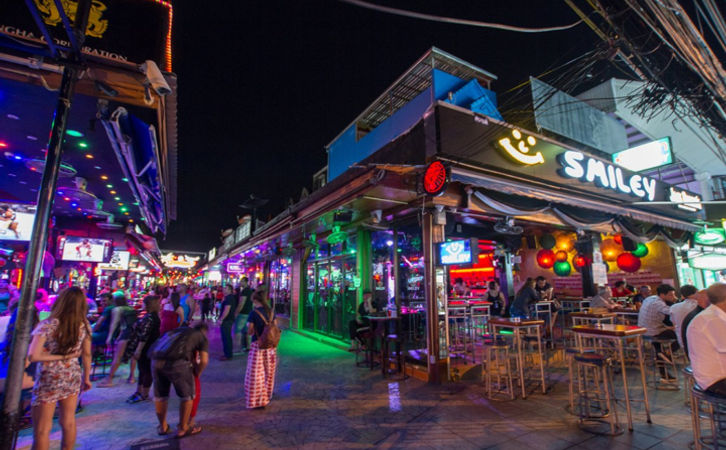 Lined with bars, neon lights, and street performers, Bangla Road is the place to be after a day of sightseeing. Music blends from bar to bar as you walk down this 400-meter street. There's not a night when Bangla Road isn't packed. Once sundown hits, the street is closed to vehicles and all that's left is a crowd of friendly folks, chatting, and partying the night away.
This is it… plus a little bonus!
These were the top 14 fun things to do in Phuket. Hopefully, you've gotten some insight on what you must see in Phuket and had fun doing so!
Planning a visit to Thailand? Check out some of our Bangkok guides to help plan your perfect trip!
We also have a little something for you! If you're interested in a cooking class, use the promo code PHUKETBEST10 and get a 10% discount on www.cookly.me