Looking for the best dishes and street food to eat in Bangkok?
Much Bangkok's food can be experienced on the buzzing streets of this vast city. The vibrant street food scene will definitely satisfy your appetite, as you might want to eat up whatever the smiling vendors are ready to serve you.
Bangkok is an absolute heaven for foodies. Food is everywhere, it's cheap, and it's aroy (delicious in Thai). If you're a Thai food fan, you're going to love what follows. The variation of dishes in Bangkok is enormous, whether it be on the street or in restaurants. When it's time to order, you can easily get lost in the moment. 
Discover what and where the locals eat. We'll guide you through the streets of this teeming city and show you the top dishes, foods, and drinks this city has to offer! Insects, anyone?
Thai Fried Noodles (Pad Thai)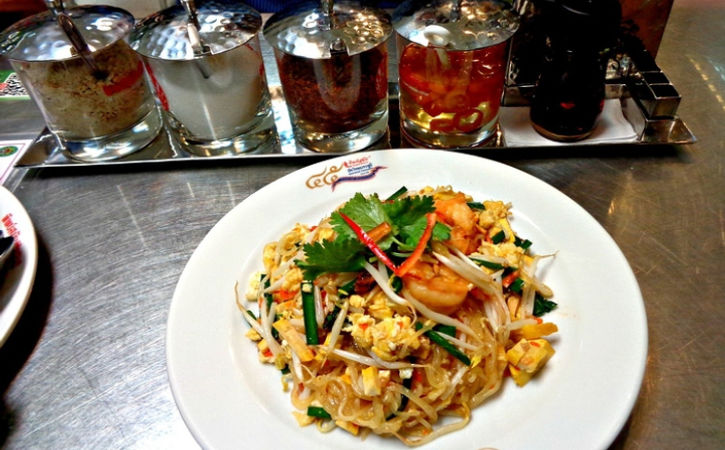 Even though the locals don't eat as much Pad Thai as you'd think, you can't leave Bangkok without having tried an excellent one. For the rest of the world, Pad Thai is to Thailand what bread is to France or poutine to Canada. It's almost like a national dish with an interesting historical background. In this dish, fried noodles are mixed with bean sprouts, tofu, eggs, and green onion and can be combined with either shrimps, pork, or chicken. Try making it your own by adding any combination of lime juice, fish sauce, chilli, sugar, or peanuts!
Want to learn how to make a Pad Thai like a local? Check out a cooking class in Bangkok!
Green Curry (Kaeng Khiao Wan)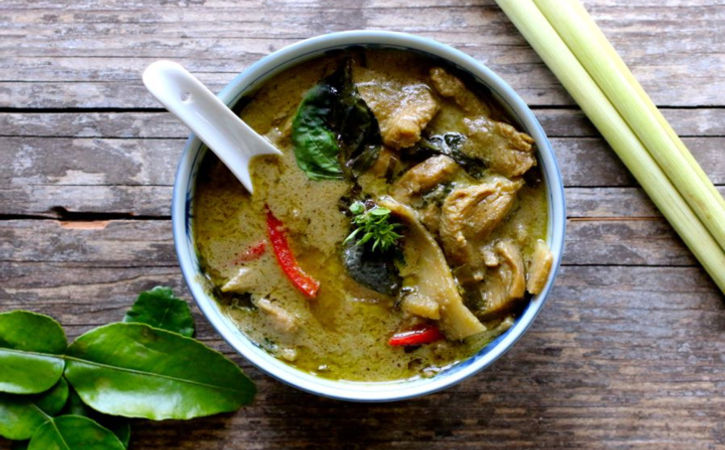 Dig into the spicy dimension of Thai food with a bowl of a traditional Green Curry. It can be made with chicken or beef, but is has become a vegan favorite as well, since these ingredients can easily be replaced with tofu without losing the essence of the dish. Regardless if you are going for a vegan option or not, the blend of creamy coconut milk with coriander, cumin, ginger, Thai basil, lemongrass, lime, and spicy chili will tickle your palate and make you feel alive!
Spicy Sour Soup (Tom Yum)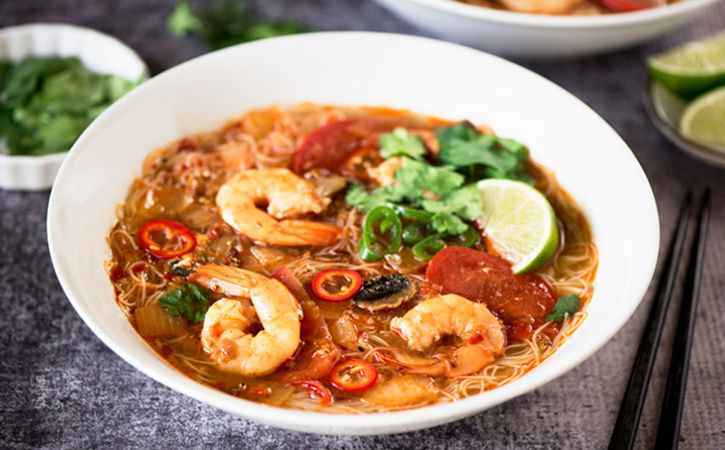 This hot and sour lemongrass and shrimps Thai soup will rock your taste buds! Dive into the combination of flavors of lemongrass, galangal, kaffir lime leaves, fresh Thai chilies, and fresh lime juice. All together, those ingredients create the ultimate taste of Thailand. The ones who have already tried it, know the taste is unforgettable and it has likely summoned itself in their mouths again.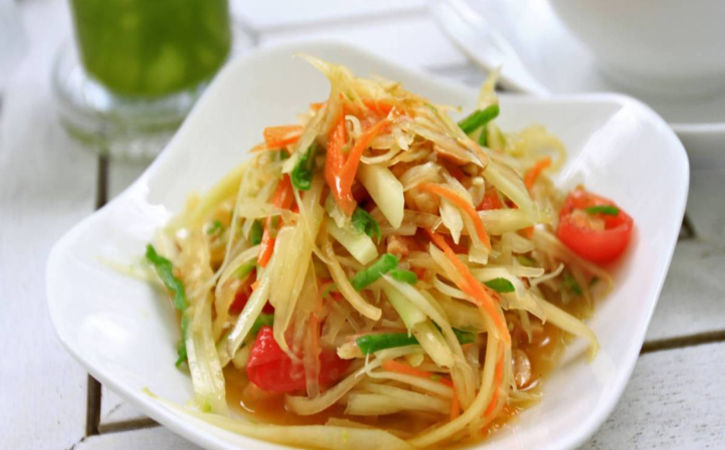 Som Tam is definitely a must try during your exploration of the streets of Bangkok and its food. This refreshing salad is the combination of sweet, sour, salty and spicy savours, where stripes of green papaya are tossed with palm sugar, garlic, lime juice, fish sauce and cherry tomatoes. If you need to cool off from the heat in the air around you or the heat from all the spiciness in your mouth, this salad will be a perfect variation to your Bangkok diet. 
Spicy Beef/Squid Salad (Larb)
Don't miss this refreshing and tasty salad that highlights the best of the Thai cuisine. This meat salad is made with minced meat, but can optionally be made with fish as well. The seasoning is composed of the regularly used fish sauce to which dried chili peppers, red and green onions, aromatic kaffir lime, and fresh spearmint leaves are added. If you're looking to try more exquisite Thai dishes in Bangkok, check out the Top 10 Best Thai Restaurants in Bangkok.
Thai Basil Chicken (Pad Kra Pao Gai)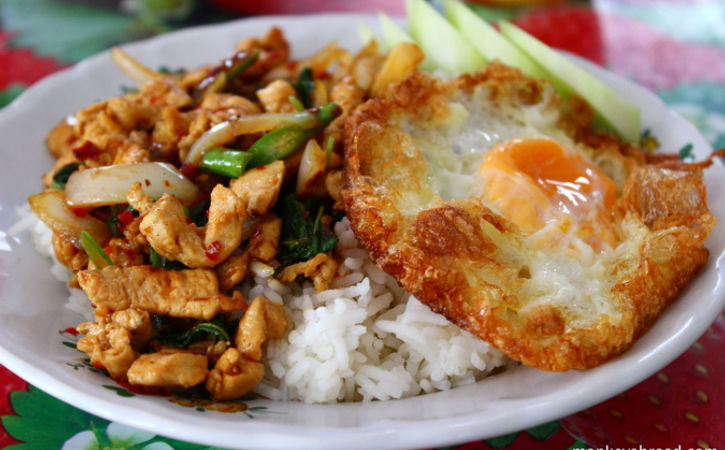 This might be one of the most common and popular Thai foods you can find in Bangkok. Minced chicken is seasoned with the flavours of Thai basil, fish sauce, chilies and garlic. You can enjoy it with with rice, fried egg, and chilli sauce. If you find yourself not knowing what to order, this dish will save you, as you can't go wrong with this Thai street food classic. 
Baby Coconut Pancake (Kanom Babin)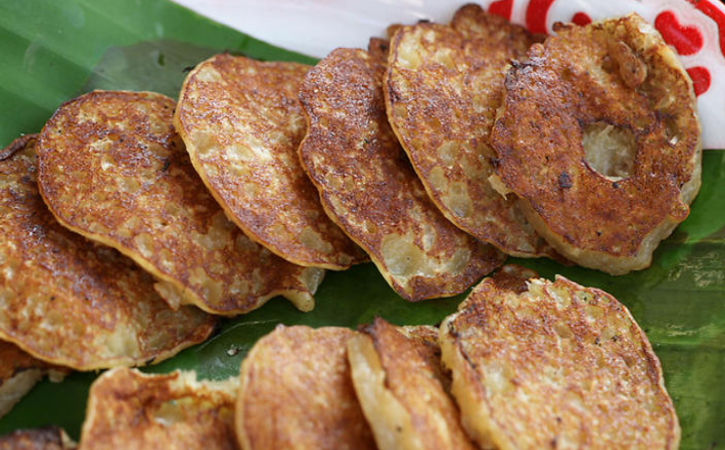 When we think of Thai food, we often think of spicy and exotic flavors, but the Thai cuisine is more than that! As a dessert or even for moments of sweet cravings you will be able to satisfy your taste palate. One of those dishes, are these little brown pancakes, made from sliced young coconut. Unfortunately, they're not as commonly found anymore, so if you happen to come across them they're a must try. They are absolutely delicious. Not too sweet, not too greasy, just perfect.   
Mango and Sticky Rice (Khao Niao Mamuang)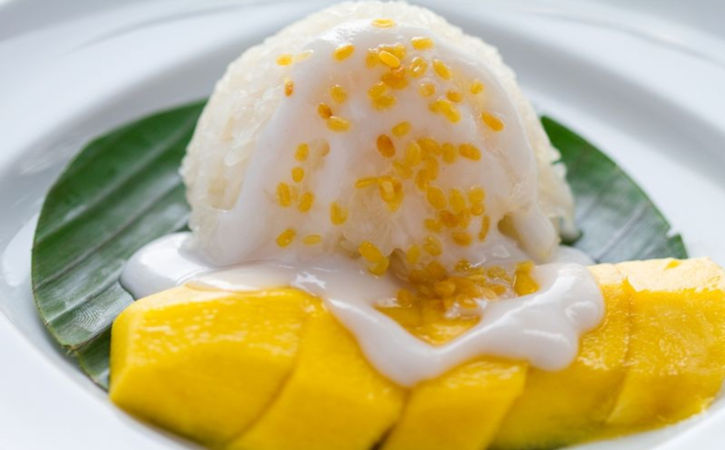 Sometimes the most simple dishes are the ones most memorable. This traditional Thai dessert is an idea of sweet paradise made tangible. As soon as you spot stalls with mango pyramids you're in the right place. See those stalls with mango pyramids? Stop here and try this combination of sweet and juicy mangos with sticky flavoured rice and coconut cream, as it tastes best when it's fresh. 
Where You Should Go To Try The Best Of Bangkok's Street Food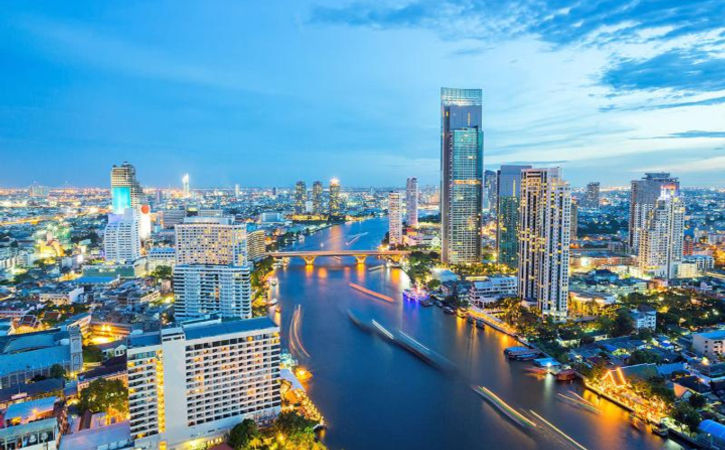 You can basically find food on every street corner in Bangkok – from small street stalls to big restaurants. Usually, areas full of locals are good signs you might catch great street food. In case you don't feel like wandering around and want to get straight to the food, here are the best spots for street food in Bangkok.
Take note: Mondays are street cleaning days in Bangkok and some food stalls vendors take the day off.
1. Lumphini Park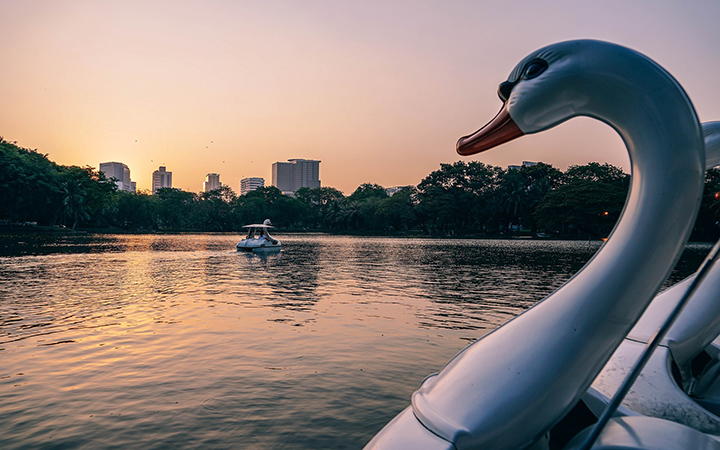 Just off Lumphini Park, camped on the northwest corner, along Ratchadamri Road, you will find a collection of street food vendors. Walk by the stalls, choose what you want, pull up a chair, and enjoy!
Getting there: Take the MRT Subway to Silom Station, Exit 2.
2. Chinatown (Yaowarat)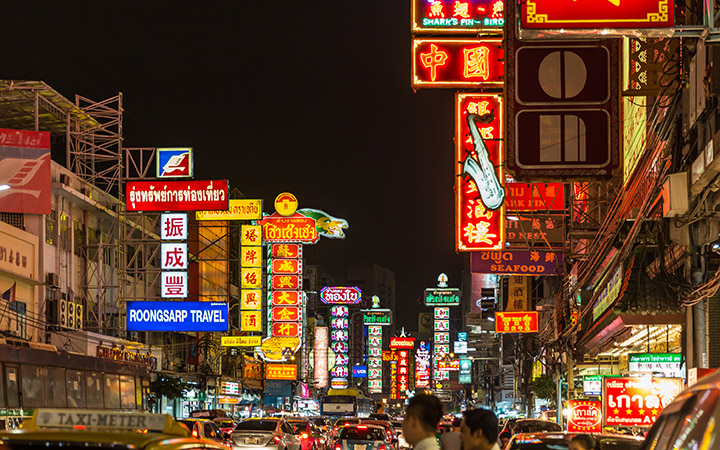 For authentic street food, Chinatown, also known in Thai as Yaowarat, will leave you in the capable hands of hundreds of street food vendors. The competition is fierce between the food stalls, meaning that only the best vendors can survive. This makes Bangkok's Chinatown one of the best place for street food. Get lost in the streets and go wherever the delicious smells take you.
Getting there: Take the MRT Subway to Hua Lamphong station. From there, it's just a 15 min stroll away.
Chinatown doesn't just have great street food but it also is a fun place to shop. Check out other Fun Things To Do in Bangkok.  
3. Victory Monument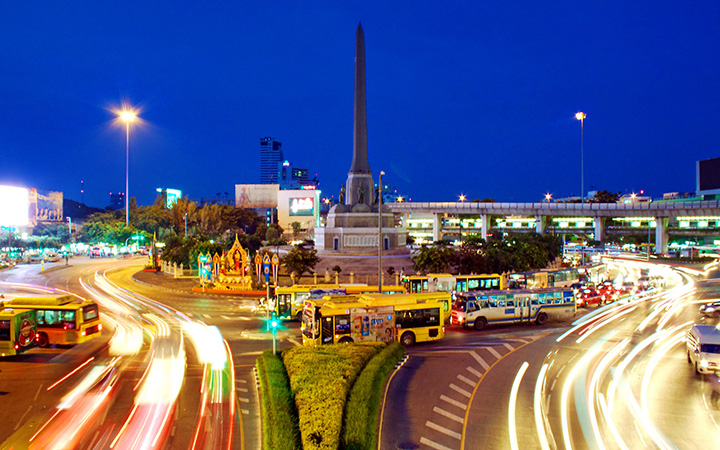 Where there are people, there is food. As one of the main transportation hubs in the city, Victory Momument is especially crowded, but therefore also an excellent place for quality street food. You will have a large choice from a lot of street stalls that abound in the streets. Evenings are better to come to visit the area.
Getting there: Take the BTS Skytrain to Victory Monument station, Exit 3 or 4.