Nearly everything in Tulum shows a unique blend of old and new. From the architecture to the cuisine, old favorites mix in seamlessly with new influences. Taking advantage of these deliciously crafted meals is essential, but what exactly are the classic Yucatecan dishes found in Tulum?  
Food in Tulum is especially unique today because it shows a wide blend of cultural influences including Mayan, Yucatecan, Spanish, and even Danish. Needless to say, if you're in Tulum, there's more food to try than just tacos! Get out, go exploring, and while you're at it, here are 10 great dishes to try while you're enjoying the beautiful, vibrant city of Tulum!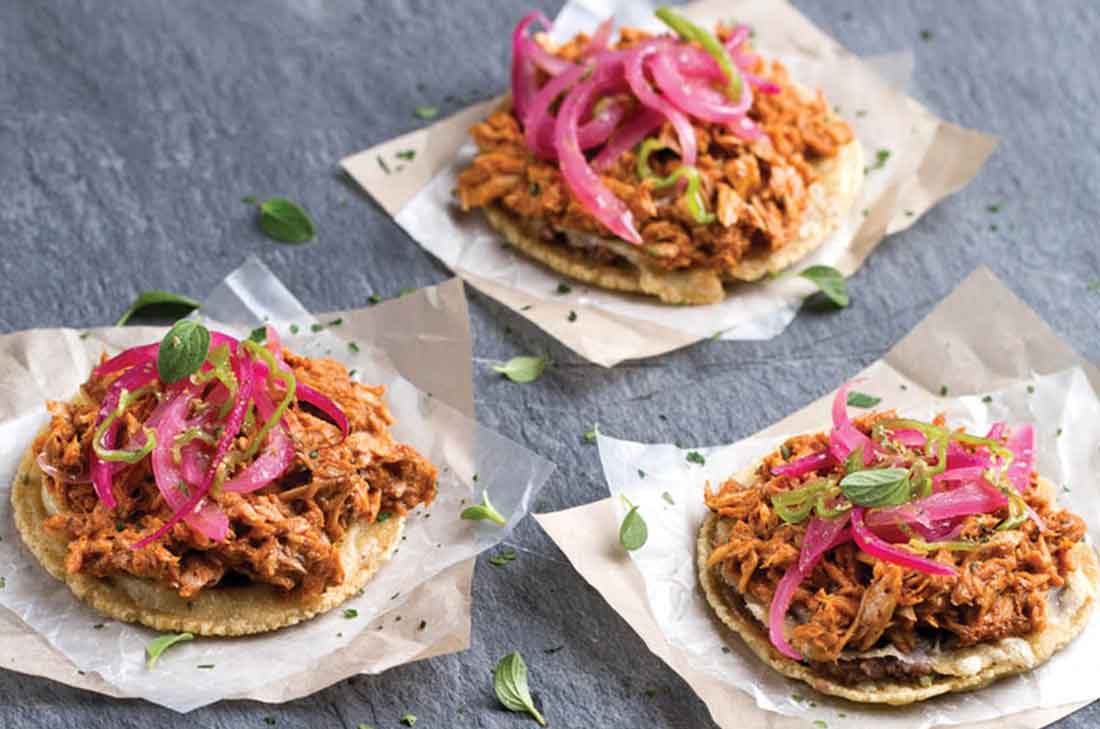 Panuchos are a Yucatecan specialty that are the perfect late-night meal! Starting with a refried tortilla stuffed with refried beans, these delicious snacks are filled with juicy bits of chicken or turkey. Topped with pickled red onion, avocado, cabbage, and of course, jalapeño pepper, you can count on Panuchos to pack a flavor-filled punch. Make sure to grab a couple of these on your way home to end the night with a bang!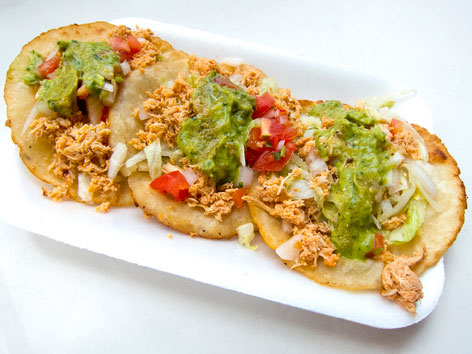 Another Yucatecan staple, Salbutes will fill all of your midnight cravings. Pulled chicken (or turkey), seasoned to perfection and dripping with flavor is piled on top of a light, puffy fried tortilla. Bursting with lettuce, avocado, tomato, and pickled red onion, Salbutes start with a delicious crunch and fill your mouth with unique textures. Pair with a cold beer and you've got yourself a messy, meaty, addicting late-night treat.
With a history deeply rooted in the Mayan culture, this dish features the strong, distinct flavors of the Yucatan region. Thin slices of pork are marinated in orange juice to give the meat a sweet, tangy flavor from the get-go. Then they're generally grilled over an open fire and are served with rice, refried beans, and pickled onions. Although this might not be the most well known Mexican dish, this should most definitely be on your must-try list while in Tulum!
Have you ever dreamed of tender pork marinated in citrus juice, then wrapped in a banana leaf, and then slow-roasted over a fire? Well, look no further because the Cochinita Pibil is the dish for you! A huge defining characteristic of this meal is that the meat is seasoned with annatto seed, which is native to the Tulum region. The annatto seed is used mainly to give the meat it's signature orange color. After giving this one a try, you'll be saying, "Orange you glad you didn't order a Quesadilla?"
Photo via Epicurious
A classic, comfort style meal similar to enchiladas, Papadzules are everything you want and more. Gently warmed tortillas are stuffed with hard-boiled eggs and are drizzled with tomato sauce and green pumpkin seed sauce. A chiltomate salsa is added over the top, which adds a bit of color and spice. This dangerously good combination is surprisingly delicate and creamy and not to mention, beautiful to look at! You won't go wrong grabbing one of these at any time of the day.
Photo via TripAdvisor
If the translated name – Stuffed Cheese – isn't convincing enough to dive right into this dish, then I don't know what is!  While it is known for being a Yucatan classic, Queso Relleno actually stars the Dutch cheese Edam, which is then stuffed with minced meat. To finish off this delicious gooey, meaty delight, a cornmeal sauce and tomato sauce are poured hot over the ball of cheese. It's messy and delicious – not much more to be said!
Photo via Simply Recipes
If you haven't had this amazing soup yet, then stop everything you're doing and go give it a try! It's the perfect combination of tangy and spicy and creamy and crunchy – what more could you want. The chicken-based soup is flavored with lime and chiles and then it is topped with fried tortilla strips and bits of avocado. This might be a classic, old-school dish, but it will never go out of style. 
This is the Yucatecan take on tamales. It's similar in that its a corn-based dough that is steamed in a corn husk. However, it's different in that its filled with egg, pumpkin seed sauce and chaya leaves, which is a wild plant indigenous to the region. Topped with chiltomate, this is a delicious twist on an old favorite. An oldie but goodie for sure!
If a dish dates back to Mayan times and is still a favorite today, then you know it's gotta be good! An addictive mixture of corn, beans, and onions is packed into small bite-size balls and then deep-fried. It is then drenched in a spicy tomato sauce and served piping hot. Whether it's a late-night snack or a mid-afternoon pick me up, you can't go wrong with Polkanes.
This is the must-have street food to try while you're in Tulum. Traditionally made and sold out of food carts, ordering a Marquesita is like getting dinner and a show! The batter is poured onto a hot press and then topped with anything from cheese to Nutella to jam. Then it is rolled up and served hot. Whether you like yours sweet or savory, this crispy treat can't be missed!